NEWS
29.1.20:

We are immensely honoured to have been invited to be play the first ever

Scarborough Punk Festival

, coming up on Saturday 28th March at the

Spa Theatre

!! Headlined by
THE SKID
S
, along with an incredible collection of bands such as
AN
TI-NOWHERE LEAGUE
,
PETER & THE TEST TUBE BABIES
,
99
9
,
CHELSEA
,

THE VIBRATORS

,

MENACE

,

HUNG LIKE HANRATTY

,

THE RAMONAS

,

HOT ROCKETS

and us!! It promises to be an amazing day at the seaside...
We have a limited number of tickets available for this spectacular event, they're a piddling £41 with free postage, available in the Online Shop now!! Be quick, this is gonna be a busy one...


27.11.19:

Apologies for the radio silence since April, chaos has reigned ever since the album came out. Not that we haven't been busy - we've been gigging constantly ever since, including a hugely fun appearance at the Rebellion Festival!!
Anyway, we're back, we're doing stuff, and we have a big announcement....
THE KINGCROWS ARE ON VINYL FOR THE FIRST TIME.




Yes, Brute Force And Ignorance is coming out on 12" plastic!! Y'see, when we were kids, you were only a proper band if you had a record out. There's something mystical about a real live vinyl album. CDs are convenient, but LPs are important. And now we've done it. And not just that, but we figured if we were going to do it we might as well go mad with it, so it's on Neon Green vinyl. It's limited to 250 units, it's selling for £15 a go (plus postage) and it comes out on 1st December. Preordering is up on the Emporium Of Stuff right now. Go on, you know you want to!!
So it's coming up to the end of the year and we have three gigs left. Firstly we're in Coalville, Leics at the Victoria Bikers Pub this Saturday (30th November) headlining a bill featuring Born To Destruct, Mispelt, Leftovers, Disowned and Cracking At The Seams. It's an early start (first band on at 5.30, we're on at 9.30 and the whole thing finishes at 10.20), and it's free in!! Six top bands for NO MONEY.
Then we've a busy weekend to finish the gigging year - Friday 13th December sees us back at Westgate 23 in Heckmondwike to play their Christmas punk bash with Vomit and Eye Licker. Again, it's free in, and the punk shows at Westgate 23 are always utter mayhem, so don't miss it!!
The next day (Sat 14th), we're honoured to be on the bill for the annual Leeds Punk Rock Christmas alldayer at the Brudenell Social Club. We had to pull out of last year's, so we're really looking forward to finally doing the thing!! This year's bill is an absolute stormer too: GBH, Cyanide Pills, Duncan Reid & the Big Heads, Geoffrey Oi!Cott, Knock Off, the Kingcrows, the Swindells and the Allergics. It's a hell of a way to see the year out!! See ya down the front!!

14.4.19:

People of Earth, your attention please. The wait is over. The long-awaited new Kingcrows album BRUTE FORCE AND IGNORANCE is here!! Four years on from the release of our last album FUNLAND, we now bring you thirteen more tracks of sleaze-punk-n-roll insanity with all the subtlety and refinement of a boot in the jewels.


Tracklisting:
PSYCHO RADIO
BLOOD BROTHERS
CAR CRASH CADILLAC
I LOVE MYSELF
VIC THE VIGILANTE
CITY KIDS
BUM NOTES AND FEEDBACK
Z-LIST CELEBRITY
SATURDAY NIGHT ROCK CITY
ONE NIGHT ONLY
DO WHAT YOU DO
RIP IT UP
MY HEART, MY LIFE


We're really proud of this album and we can't wait for you lot to hear the thing. The official launch is this Friday, 19th April, and we'll have copies with us for our slot at the ANARCHY AT THE WATERLOO festival in Blackpool that day (we play at 5pm, but get there earlier cos all the bands are great!!). The CD can be ordered now at our Official Emporium Of Stuff for a piddling £7 (+ £2 p&p)...go to it!!


...and here's a little taster for the album, a quick slideshow vid to accompany Track 10, "One Night Only"!



25/2/19:
We're a couple of months and a couple of gigs into 2019 now and we've been having a great time. We ended up headlining the Lincoln Imp in Scunthorpe after
The Warriors
were forced to pull out due to terrible weather conditions Dahn Sarf, and then we hit Sutton-In-Ashfield for the first time to play with
Billyclub
and
Freedom Faction
. Both brilliant nights, cheers to everyone involved!!
So, next weekend is a busy one. We're doing two headline gigs in two nights....
Night #1, Sat 2nd March is at the
Santiago Bar
in Leeds - it's a LONG time since we did a hometown headline gig, so it would be great to see some of the local mob out there!! Support is from all-female London heavy rockers
HAWXX
, doors are at 7.30 and entry is a piddling £5.
Night #2, Sun 3rd March is at the
Old School House Venue
in Barnsley, always one of our favourite places to play! We have
BORN TO DESTRUCT
and
THE WEBB
as our guests for this one. It's an early start and finish (doors 5pm, all finished for 9pm) and entry is FREE!!
Hope to see some of you nutters down the front next weekend!! CHEERS!!
9/12/18:
The year is winding down and we have just two more gigs left in 2018. On Friday 14th Dec we're back at
Westgate23
in Heckmondwike to play the
Rock @ The Westgate
Christmas bash, along with local hard-rock heroes
Liberty Slaves
and our techno-goth mates
The Webb
. Entry is free and those
R@tW
nights are always great fun!
Then on Sunday 16th we're heading up
IndigoBravo
's Christmas special at the
Bridge Inn
in Stalybridge. It's an eight-band marathon, featuring us,
Healthy Junkies
,
Weekend Recovery
,
Tokyo Taboo
,
Minatore
,
Bite Back
,
Black Dog Anthem
and
I Got Spiders
. It's another free entry show, which is bloody good for a bill of this calibre!!
And finally, on Monday 17th, we're off out for an end-of-year curry. Because we think we deserve it; 12 years, 303 gigs, and we're still keeping at it!! We must be bloody mad...
Thanks for your support this year, we really appreciate it. All the best for the Yuletide season and we'll see you all in 2019!! CHEERS!!
14/11/18:
It's NEW T-SHIRT TIME!! We always love this bit. Our brand spanking new t-shirt design is now available (fresh off the presses today - in fact they're still warm...!), and we think this might be the best design we've ever done....
Tasty, innit?! Available now for a measly tenner (+ P&P) from the
Official Emporium
...
You could also, should you be so inclined, pick one up from one of our gigs this month! Got three belters coming up - first, this Saturday (17th Nov) we're supporting the mighty
999
at the
Lincoln Imp
in Scunthorpe. Also on the bill are
76 Calling
and
Patched Up Parachutes
. Then, it's a mad early-morning dash over to the other side of the country, as we're opening the final day of the amazing
Morecambe Punk Festival
at
The Carleton
in, um, Morecambe. Fantastic bands all weekend (Friday to Sunday, with a free warmup at The Exchange on Thursday) at this festy, including (deep breath)
CHRON GEN, ZOUNDS, RUBELLA BALLET, P.A.I.N., CONTROL, HUNG LIKE HANRATTY, CONTEMPT, THE DRONES, PARANOID VISIONS, VIOLATORS, SURGERY WITHOUT RESEARCH, THE MANC LADS, CRESS, KNOCK OFF, BILLYCLUB, VOMIT, MR BADAXE, THE FUCKIN' GLORIOUS, FREEDOM FACTION, HAZARD, FACE UP, THE FIEND, GEOFFREY OI!COTT, PAUL CARTER (a rare electric set!), V2.2, UNDERCLASS UK, PIZZATRAMP, THE REVERENDS, MIDDLE FINGER SALUTE, SUPER FAST GIRLIE SHOW, ADDICTIVE PHILOSOPHY, DELINQUENTS, HEADSTICKS, BORROWED TIME, THE LEE HARVEYS, NO THRILLS, HEADSTONE HORRORS
and us. We're on at 12 noon on Sunday, so don't sleep in!! Also, it happens to be our 300th(!!!) gig, so that's a cause for celebration. Tickets are available from
HERE
...
The following week (Sat 24th Nov) we're having a ride down to Newcastle Under Lyme to support the incredible
Guitar Gangsters
at the
Lymedale Grill Bar
, with the
New Subterraneans
completing the bill. Particularly looking forward to this one, the GGs are a brilliant and hugely underrated band and we haven't played with them in about ten years....
See you down the front!!
17/9/18:
Been busy busy busy the last few weeks, loads of great fun gigs at some of our favourite places!! Two shows at the good old
Brudenell
in Leeds (with
TSOL
and
XSLF
), a slot on the brilliant Punk Uttoxeter weekender at the beautiful
Old Star
, a trip down the London for another bash at the
Unicorn
in Camden and a hop down to Rotherham to support
Peter & the Test Tube Babies
at the
Cutlers' Arms
. Unfortunately our shiny new van has suffered an episode, so we've been using a lot of hire vans recently, but we're still getting out and about!!
Next couple of gigs are full length headline sets; Friday 21st September at the
Hallcross
in Doncaster (we haven't played the Hallcross in years, the place has changed hands a few times but is back to being a gig venue again) with support from our mates
Hospital Food
and
Cockney Doglady
, and then Saturday 6th October at the
Black Mass Bar
in Wakefield with
The Terrorsaurs
and
Mr Badaxe
. See ya down the front!!
1/7/18:
The gigs over the last month have been brilliant, with excellent bills, top venues, great crowds and fun times all round (sitting backstage with the Dirt Box Disco guys in Scunthorpe reviewing biscuits was a particularly surreal moment!), and we have a load more coming up this month too!! Here's a quick update of what's coming...
Next weekend (Fri 6th-Sun 8th July) is
The Unholy Messtival II
at the
Victoria Bikers' Pub
in Coalville, Leics. It's a phenomenal looking event, a mere £30 (advance, including camping) for forty excellent bands, including
The Fuckwits
,
Pizzatramp
,
Hospital Food
,
Mick O'Toole
,
the Papashangos
,
the Bleach Boys
,
Pussycat & the Dirty Johnsons
,
the Poly-Esters
,
You Want Fox
,
Mr Shiraz
,
Jellly
,
The Webb
,
CockneyDogLady
,
Spunk Volcano & the Eruptions
,
Rum Direction
,
Xtract
,
the Vermin Suicides
and many more. We headline the second stage on the Sunday evening!
Get your tickets HERE, it's a hell of a deal!!
The following week we're over in Macclesfield at the
Nag's Head
to play an incredible nine-band bill headlined by
Slaughter II
(essentially the last incarnation of Slaughter & The Dogs before they split up first time around, fronted by Ed Banger of the Nosebleeds), along with
Vomit
,
Born To Destruct
,
Terminal Rage
,
Complete Dysfunction
,
The Meat Beaters
,
Paul Carbuncle
and
Potential Victims
. All that for a piddling £5!! Tickets available from the venue, but be quick...
Saturday 21st July sees us nipping down to Sheffield to join in the fun at the

Mulberry Tavern

's punk fringe event for the annual

Tramlines Festival

. We're on mid-afternoon on a bill also including the

Mau Maus

(first gig in 35 years!),

W.O.R.M.

,

Snakerattlers

,

3 Stone Monkey

,

Benefit State

,

Twisted Biscuit

and loads more. It's free in, there are great bands all day and it's gonna be absolute chaos!!
Just sneaking in at the end of the month, we have something a bit special. A rare hometown appearance for us and an even rarer appearance by the headliners. On Sunday 29th July, at the

Brudenell Social Club

in Leeds, we will be opening proceedings for Californian punk legends

T.S.O.L.

! Also on the bill are Birmingham's punk 'n' roll heroes

dragSTER

. This will be a hell of a night!!

Oh yeah, and the new van has a decent stereo in now. Have tunes, will travel...see ya down the front!!
1/6/18:
After a protracted period of immobility after our trusty old van finally gave up the ghost on the way to a gig in Ashton-Under-Lyne (apologies again to anyone who came to see us, hopefully the other four bands on the bill made up for our absence), the Kingcrows are back on the road this month. Got some absolute belters coming up....
First up is the annual
Punks Against Cancer
bash at
Warehouse 23
in Wakefield on Saturday 16th June. The bill this year is a pretty amazing one, featuring
Vice Squad
,
Chron Gen
,
Abrasive Wheels
,
Anti Pasti
,
Infa Riot
and many more. It's an all-day show with ten bands, starting at noon, and it's all in aid of Macmillan Cancer Support so get there early!!
The next day, Sunday 15th, we're hopping over the Pennines to our favourite Manchester venue the
Star & Garter
to support Belfast punk legends
The Outcasts
. Also on the bill are
Drongos For Europe
and
One Man Stand
. As usual for Sundays at the S&G it's an early start and finish, with the doors at 3pm and the first band shortly after.
Then, on Saturday 23rd June, we're off down to sunny Scunthorpe to return to the
Lincoln Imp
to support our old mates
Dirt Box Disco
, with
Inequality Street
opening up proceedings.
It's gonna be great to be back out there, just need to get a decent stereo in the new van now...see you down the front!!
4/3/18:
Unfortunately, last night we were forced to cancel our gig at the
Old Town House
in Warrington due to the ongoing Bloody Awful Weather situation. It's the first time in seven years we've cancelled a gig (last time was due to the snow too, when we got stuck on the way to Hull...) and we hate doing it. Massive apologies to everyone involved, especially anyone who came down to see us and the other bands on the bill, our mates
Flat Back Four
and
W.O.R.M.
- sorry to let you down guys....
On a more cheerful note, the recording went extremely well, we'd booked eight days to track the thing and got it all down in seven. We've just got to wait to get it mixed and mastered now. Watch this space...
12/1/18:
...and we're back for another year of noise and foolishness!! Some killer gigs lined up - first bash of 2018 is the headline show at
Westgate 23
in Heckmondwike (Fri 26th Jan), at which we'll be blasting through the whole of the new album, closely followed by supporting the legendary US punk pioneers
Dead Boys
(featuring original members Cheetah Chrome and Johnny Blitz) at the
Brudenell
in Leeds on Wed 31st. After that it's a long ride up to Carlisle to play the second stage of the
Rockmantic Festival
at
Embers
on Fri 9th Feb, and then on Sun 11th Feb we're at
The Tavern
in Stalybridge for an afternoon shindig with
Chaos 8
,
Yur Mum
,
Hospital Food
and
The Awkwards
. Then on Sat 17th Feb we'll be making the trek over to
The Globe
in Glossop to play another headline bash, with Sheffield alt-rockers
Air Drawn Dagger
as support. And THEN....
...WE'RE MAKING AN ALBUM!! It's two and half years, more or less, since
Funland
came out, so this is well overdue. Some of the songs we've been playing for years, some of them we've never gigged before. But we can't wait to get it recorded and out to you lot...
21/11/17:
So, after that brilliant little run of shows, we've finished gigging for the year now - we're using the next couple of months to intensively prepare to record the new album. The material is sounding deadly and it gets meaner every time we play it. It's taken us two years to gather up all the songs for this album, but we reckon it's some of the best stuff we've ever done. We will be running through the whole thing at our next gig (Friday 26th January 2018 at
Westgate 23
in Heckmondwike, with
The Webb
in support, don't miss it!) to see what you all think of it. The plan, all being well, is to record it in February, with release details to be confirmed...watch this space for more info!!
25/10/17:
Sorry AGAIN for the lack of updates, but this time it hasn't been our fault...we've had technical problems with the site meaning we couldn't get in to edit it. Fingers crossed, we seem to be up and running again...
So, what have we been up to since we last spoke? Well, there was this, for a start....
Yes, we got to jam with the mighty
TV Smith
! At the climax of the Scunthorpe gig we came on to be his backing band for a totally unrehearsed (well, WE'd rehearsed it, but we'd never played it with the man before!) blast through the Adverts classic "One Chord Wonders". We reckon we didn't do a bad job of it, and TV seemed to have fun! It was a massive honour to share a stage with one of punk rock's greatest singer/songwriters and a hugely proud moment for us!!
We also played a very short notice gig at the
Key Club
in Leeds with a bunch of guys from Florida called
The Attack
. Excellent band, well worth checking out next time they come over!!
Then, we were back at the
Lincoln Imp
in Scunthorpe again (fantastic venue by the way, one of the best on the circuit) to support the Tim V edition of
Sham 69
. Cracking crowd, raucous punters, LOADS of fun!!
Coming up next for us: a few more gigs, obviously! Firstly on Saturday 29th October we're appearing at
Punkinfest III
, the annual Halloween charity all-dayer at
The Imperial
in Mexborough. A great event in aid of Candlelighters, the childrens' cancer charity so well worth supporting. An excellent bill too - apart from us, there's also
CAIN
,
MONKISH
,
MUTHA LOVIN' CHIMPS
,
THE PAPASHANGOS
,
COCKNEY DOGLADY
,
JOHN MERRICK'S REMAINS
,
BANK HOLIDAY JEZ
,
PASSION PLAY
,
LITTLE TERRY
and
JACK KNIFE SUPERNOVA
. Free entry, but please donate while you're there!!
The following week, on Sunday 5th November, we're first on at an amazing bill at
Warehouse 23
in Wakefield. Headliners are the legendary
RUTS DC
, still sounding incredible after all these years. Also starring Britpunk heroes
ANTI PASTI
and our old mates
SEPTIC PSYCHOS
. It's going to be a hell of a bash! It's an early start and finish for this one - doors are at 4pm, and we're on first so get there early to see the fireworks!!
After that we've got a long-overdue return to Barnsley, we're back at the old Polish Club - now known as the
Old School House Venue
- on Sunday 12th November to do a headline show. Supports are Scunny's finest
ONE CHAPTER DOWN
and Barnsley local legends
BRAINBOMB
. This is another early gig, as usual for this venue, with doors at 5pm and first band onstage at 5.50. Don't be late!! We're going to be cracking out a load of new material for this gig, so come and hear a sneak preview of what's coming for the next album!!
Oh yeah, and before we sign off, a couple of bits of news...
We have new t-shirts for sale, available in the
Official Emporium Of Stuff
, they look like this:
...and they're a piffling £7 plus P&P. Please buy one, we need the money to make the new album!!
Finally, a date for your diary for next year. After it was cancelled back in August, we are colossally chuffed to announce that the

DEAD BOYS

gig at the

Brudenell Social Club

in Leeds has been rescheduled for Wednesday 31st January and we are the sole support!! It's going to be incredible to share a stage with Cheetah Chrome and Johnny Blitz (and with the band also featuring Jason Kottwitz of NYHC heavyweights

M.O.D

. and Ricky Rat from Detroit glam-punk lunatics the

Trash Brats

), so make sure you come and witness the insanity!!
See ya down the front!!

26/9/17:
Sorry for the lack of updates, we've been chaotically busy. We're gonna be especially busy this weekend, cos we're back at the
Lincoln Imp
in sunny Scunthorpe on Saturday (30th Sept) supporting the legendary
TV SMITH
, vocalist of
The Adverts
and one of punk rock's greatest ever songwriting talents. Also featuring
One Chapter Down
,
Patched Up Parachutes
and
Neve Stokoe
, and with a little surprise planned for the night...!
Then on Sunday 1st October, we're at the
Horse & Groom
pub in Bradford (Beacon Road, BD6 3EU) to knock out some tunes for the
Drifters MCC
's annual
Little Bit Of A Bike Show
. We're gonna be bringing out some brand new material for that one, so come and give it a listen. Show starts at 1pm, we're on at 2pm. What else would you be doing on a Sunday afternoon?! See you out there!!
20/5/17:
It's nearly Sleazy time again!! Next weekend we're back at the legendary

Nice N Sleazy festival

at the

Trimpell Club, Morecambe

for our seventh appearance in eight years. It was nice to be there as civilians last year, but it's great to be playing again! It's one of the highlights of the year for us, dozens of great bands, excellent punters, sand, sea, cheap booze, a chance to catch up with mates, and of course copious breakfasts. This year's festival runs from Friday 26th to Sunday 28th May (with two warmup gigs, Weds 24th at

The Bath Hotel

and Thurs 25th at

The Exchange

), and we play on the Sunday at 5.15pm. Full details at www.nicensleazy.info
, see ya up there!!

15/5/17:
So, the Kingcrows Busy Weekend was a blast! Here's a quick report of the weekend...
FRIDAY - a nice early setting-off time and it's all aboard Ratbag's Big Red Fun Bus to haul arse over to Blackpool for the first night of the mini-tour. We're playing with a lot of our mates over the course of the weekend and tonight it's the legendary

Lurkers

and the fantastic

Fuckwits

. Except the Fun Bus isn't happy...tooling up the M62 towards the top of the Pennines, a big plume of smoke erupts from the back of the van, accompanied by a nasty burning smell. We pull over. The smell and the smoke are quickly traced to a back wheel. Ratbag summons the AA, Phil warns the promoter of the gig that we will be late and possibly might not make it at all, and an hour and half later a low-loader turns up to remove us to a Place Of Safety (hanging around at the side of a busy motorway is a little unnerving. Still, at least it was a nice day for it). The driver takes us to Birch services, drops us off and informs us that if we need a mechanic, we'd have to ring up again. Having done that, a patrol turns up within the hour, strips the offending wheel down and pronounces the problem to be an over-tightened parking brake (which had been replaced at MOT time a fortnight earlier). He loosens the handbrake system off entirely with instructions to go back to the garage ASAP to get it readjusted. So now we have a working van with no handbrake...
By this time it's 7.20pm. We're due on stage at 8pm, and we're still fifty miles away. Fortunately, the Fuckwits have very kindly agreed to swap slots with us, and for that we owe them a massive debt of gratitude. We reach the venue at 8.10, about five hours after setting off.
The Waterloo

is an excellent venue, a large neighbourhood pub set away from the seafront, beautifully set up with a proper stage and drum riser, excellent PA and lights, and even top-flight house backline. When we walk in the Fuckwits are tearing through their set and they sound brilliant; loud, tight and energetic. When they come offstage we do a quick changeover and hit the stage as hard as we can. The crowd is fantastic; many of them have seen us before in various places, but the reaction we get is deafening. It's a killer start to the run. The Lurkers round off the night with a set of classics and more recent belters, delivered with a punch and a grin. They have the kind of power and swagger that you can only get from being on the circuit since God's dog was a pup. Amazing performance.
Then there's just time for a midnight cruise down the seafront (just in time to see them switch the Tower lights off!) before it's back on the motorway and ready for Day 2....
SATURDAY - a shorter trip this time, and consequently a later start. The Fun Bus is now behaving itself, apart from the now non-functioning handbrake. We've played the

Diamond Live Lounge

in Doncaster before, it's a spectacular venue; a former church, it still retains the characteristic arches, timbers and stained glass but complemented by a huge stage, and a lightshow and PA to match. However, when we get there, things look quiet. The front doors are locked and nobody seems to be around to let us in. We knock for a while. No reply. We listen at the door. Faint music from the bowels of the building. Ratbag messages the promoter in confusion....
Turns out we'd forgotten about the back door.
The gig is a scorcher, the people of Doncaster have really turned out for this one.

Born To Destruct

open up proceedings with a glorious set, sounding more massive than ever by the addition of an excellent new drummer. They've always been a great turn, but they're on another level now.
Our turn next. Again our show goes off extremely well, another great reaction and a feeling of a job well done and a venue well blasted. Rocco debuts his new bass, he's gone and got himself a Flying V now. Last time we played here, Phil fell off the stage, but he manages to stay upright this time...
You should all know how good

Dirt Box Disco

are by now. They've just got a new album out and there's material from it scattered throughout tonight's set, and it's sounding great. The crowd go batshit from the opening beats of "The Other Side Of The Street" to the customary stage invasion during "Dirt Box Days". Top band and great guys. And we're playing with 'em again tomorrow...!
SUNDAY - an early start for this one, because nobody likes being out late on a Sunday. We're first on and due onstage at 7.30 sharp and it's a bit of a hike to Derby, so we're on our way in good time. Lovely day for it, at least. We find

the Hairy Dog

at the end of a cul-de-sac in the city centre, then immediately get lost again looking for somewhere to park. Yet another fantastic venue, certainly the best-equipped we've done in a long time. Backstage setup area, actual dressing rooms, massive stage, the works. Tonight we get the best monitor mix we've had in years. So, right on time, we hit the stage to what looks like a slightly thin crowd, which seems to have miraculously swelled in size by the time we get to the end of the first song. Derby, it seems, like what we do...! All too soon our alloted half-hour is up (due to a miscalculation we have to drop two songs) but we leave the stage feeling like we own the world.
Next up is

Nowhere City Riot

, the only band over the course of the weekend that we don't already know. Top bunch of lads doing a solid set of old-school punk rock. Great stuff!
If DBD had been good in Doncaster, tonight they're positively incredible. Absolutely firing on all cylinders, despite (or maybe because of) Spunk Volcano being a gallon of Guinness to the good. Full-on chaotic rock 'n' roll entertainment.
And then, the Busy Weekend is over, and we're faced with being back at work in the morning (except for Ratbag, who has to take the Fun Bus back to the garage to get the handbrake restored). SO much fun. Gonna have to do it again soon!!
Sorry we've been a bit quiet; we're not dead yet! Still out there gigging hard...in fact, we have a really busy weekend coming up next week. Three gigs in three days, here's the details...
Fri 12th May -

The Waterloo, Blackpool

- supporting

The Lurkers

, also with

The Fuckwits
Sat 13th May -

The Diamond Live Lounge, Doncaster

- supporting

Dirt Box Disco

, also with

Born To Destruct
Sun 14th May -

The Hairy Dog, Derby

- supporting

Dirt Box Disco

, also with

Nowhere City Riot
..and then a couple of weeks after that it's Nice 'N' Sleazy time again!! Hope to see some of you at these gigs...cheers!!
Bit of an announcement here, we're immensely excited to proclaim that we've been booked to support

Dead Boys

legends

Cheetah Chrome and Johnny Blitz

at the

Brudenell Social Club, Leeds

on Tuesday 1st August, as part of their European tour celebratng the 40th anniversary of 'Young, Loud And Snotty'!! The Dead Boys have been a massive influence on us right from the start and it's a colossal honour to be chosen to play with them. It's certainly something we never saw coming! Not only that but also on the bill are the brilliant

Yalla Yallas

!! Gonna be an amazing night, do NOT miss it!!
25/1/17:
Welcome to 2017! We haven't been idle over the last few weeks, there's all manner of good stuff going down here. For a start, the first two gigs of the year are imminent; the first is at the
Cutler's Arms
in Rotherham on Friday 10th February, with the amazing
Ed Stones & the BD3
in support. Then on Saturday 18th February, we're back in sunny Scunthorpe to blow the roof off the
Lincoln Imp
, backed up by
One Chapter Down
and
PGR
. Both gigs are full headline sets, so we'd better start rebuilding our stamina after the break...!
We're also immensely happy to announce that we're back at the Nice 'N' Sleazy festival in Morecambe this year!! It was nice to go as civilians last year, it's always a lot of fun, but we really missed playing and we're dead chuffed to have been asked back again. That's all going down between the 25th and 28th May, it's a Bank Holiday weekend as usual. Don't miss it, it's going to be great!!
Also, we'll shortly be announcing a REALLY cool support slot we have lined up for later in the year. We've been lucky enough over the last ten years to support loads of our favourite bands, but this gig is going to be something SERIOUSLY special. No clues yet, just watch this space...! Cheers!!
22/12/16:
WE ARE OFFICIALLY TEN YEARS OLD! Yes, today is the tenth anniversary of our first ever gig. We've just been out for a curry to celebrate. Many things have changed over the last decade - band members have come and gone (although the lineup has been unchanged since late 2008, which we think is an achievement in itself!), venues we've played at have closed, bands we've shared stages with have split, but we've kept on keeping on, relying on our very special mixture of bloodymindedness and idiocy. It's been a hell of a ride and we have no intention of getting off it yet!!
We would just like to take this opportunity to say a massive THANK YOU to absolutely everyone who's ever been to see us, bought a CD or a t-shirt, given us a gig or a floor to kip on, written nice things about us, drunk with us, all the great bands who have played with us, and everyone who's supported or helped us in any way over the last ten years. You're all diamonds.
We had an absolute blast at the Official 10th Anniversary Gig on Sunday. A truly fantastic crowd (seriously, you lot were absolutely mental, cheers!!), a great venue, and four other brilliant bands. A particularly massive THANKS to the mighty Stu Taylor, STP Records head man and all-round legend, for pulling this amazing event together and the Dirt Box Disco guys for having us along to support them. One of the greatest shows we've ever done - and our 250th gig too, coincidentally!
Next gig is our New Year's Eve Eve special on Friday 30th December at Westgate 23 in Heckmondwike. We're headlining this one, with the Papa Shangos and Paul Carter providing support. It's a free gig and it's gonna be a hell of a way to see 2016 off.
In the meantime, we'd like to wish all of you the felicitations of the season. Don't do anything we wouldn't....
9/12/16:
We can now reveal that we've got two gigs coming up next year supporting the mighty
Dirt Box Disco
- these are on Saturday 13th and Sunday 14th May, at the Diamond Live Lounge in Doncaster (also featruing the utterly fantastic
Born To Destruct
) and the Hairy Dog in Derby respectively. The Diamond is one of the coolest venues we played this year, and hopefully Phil won't fall off the stage this time. Hopefully. We've never been to the Hairy Dog before, so that's something else to look forward to!!
We are, of course, playing with Dirt Box Disco a week on Sunday at Warehouse 23 in Wakefield - yes, the biggie is here, our 10th Anniversary show! Don't forget, Sunday 18th, DBD, us,
Pussycat & the Dirty Johnsons
,
Headsticks
and
Drag
- a genuinely brilliant bill and one we're dead chuffed to be a part of. Early start and finish so DON'T BE LATE!!
27/11/16:
Just three more gigs left this year! Our tenth year of operations has been a busy and frantic one, and we're seeing it out with a bang!
Firstly, this Friday (2nd December), we're supporting the legendary
Newtown Neurotics
at the Fox & Newt in Leeds, with the recently revived
Sema 4
to kick things off. Then, on Sunday 18th Dec we're at Warehouse 23 in Wakefield supporting our old mates
Dirt Box Disco
for their annual Christmas bash. Also on the bill are
Pussycat & The Dirty Johnsons
,
Headsticks
and
Drag
. Given that this is our closest gig to the 22nd, it's also our official TENTH ANNIVERSARY SHOW!! Woohoo!! It's an early start and finish, with doors opening at 3.30pm, so DO NOT be late!!
Finally, we'll be seeing out the year on Friday 30th Dec at Westgate 23 in Heckmondwike, for our own special Not Quite The New Year Party! Supports for this one are the excellent
Papa Shangos
and acoustic punk legend
Paul Carter
.
We're intending to wreak as much chaos as is humanly possible in these last few shows, before we go for a little lie down in January, so we hope you can come and partake of the carnage!!
12/11/16:
We have some new t-shirts available! Yes, it's new merch time again, here's the latest design...
£7 (+p&p) each, available in a wide range of sizes. Nip over to the Online Shop or come to a gig if you want some of that! Keep yer eyes peeled, we have some new badges on the way too...
Our next gig is tomorrow, Sunday 13th November, at one of our favourite places: the Barnsley Rock & Blues Venue (aka the Polish Club). We're doing a full set with loads of new tunes and some oldies we haven't wheeled out for a while. Support is from the magnificent
Flat Back Four
on the last date of their European tour. It's an early show - doors at 5pm, FB4 onstage at 6.30pm, we play at 7.30. Free entry, don't miss it! See you out there!!
1/11/16:
So, the Mexborough bash was a great day, loads of top bands doing their thing for a great cause. Hell of a lot of fun, massive thanks and congratulations to all involved! Our next show is a return to the good old Barnsley Rock & Blues Venue (aka the Polish Club) on Sunday 13th November - it's an early show cos we know you like to get to bed early on a school night!! Joining us for this gig will be the magnificent
Flat Back Four
, concluding their Euro tour in exotic South Yorkshire. Free entry, doors at 6, FB4 onstage at half past. Don't miss it!!
Unfortunately the previously announced gig at the Blazing Rag in Manchester on 26th Nov has been postponed due to the pub landlord wanting the gig room for his daughter's birthday. Just our luck, eh? Hopefully we'll be rescheduled for early in the New Year. On a more positive note we've been booked to support the
Newtown Neurotics
at the Fox & Newt in Leeds on Friday 2nd December, so that's one to look forward to!!
27/10/16:
Apologies for not updating the site for a while - we've been doing a few gigs lately and also working on some lovely new material for ya, so we may not talk much but we're deffo keeping busy!
Last gig we did was supporting the legendary
999
in Doncaster, at the rather splendid Diamond Live Lounge - it's a spectacular venue, a converted church, and we had a fantastic time there. Phil managed to end the set by falling off the stage during "Beer & Whiskey", thus proving that he is a complete danger to himself. The rest of the band, of course, were overwhelmed with concern and didn't just laugh at him at all. Oh dear me no, perish the thought. Fair play though, he only missed half a line of the song before he recovered...!
We have a few more gigs coming up in the immediate future; this Saturday (29th Oct) we'll be down in Mexborough, at the Imperial Club & Brewery, to play a massive Halloween charity all-dayer. Fifteen acts on during the course of the day, including
Hung Like Hanratty
,
the Papa Shangos
,
Das Abyss
,
Inequality Street
,
The Webb
, and many more top turns. It's all in aid of Candlelighters (a children's cancer charity), so come down and support an excellent cause.
26/7/16:
This past Saturday turned out to be a slightly more hectic affair than expected, but a LOT of fun! We were booked to play the Mulberry Tavern at 2.10 in the afternoon as part of Sheffield's massive Tramlines festival, alongside such excellent turns as
Resistance 77
,
Bones Park Rider
,
Das Abyss
, the
Septic Psychos
, the
Papa Shangos
,
W.O.R.M.
and
Inequality Street
, but at very short notice we were also invited to go over to the other side of the city to support the mighty
Dirt Box Disco
, alongside the brilliant
Obnoxious UK
. Both gigs were immense fun; scorching hot, noisy and packed with nutters! Massive thanks to everyone who caught us, especially those who saw us twice(!!), to all the bands we played with (and apologies to the bands we were supposed to see at the Mulberry but had to miss due to having to get to the other gig!), and to everyone who made the day happen. You're all stars!!
Anyway, this Saturday (30th July) is gonna be another busy one!
Due to a minor administrative error on our part, we've managed to get ourselves double booked. However, we're doing both gigs anyway (so that'll be two weeks on the trot we've done two gigs in a day!).
First show is at The Witchwood in Ashton Under Lyne, it's the 50th Birthday Bash of the legend that is Jason Carroll. Jase has been a long term supporter and friend of the Kingcrows and it's a massive honour to be asked to play his party. Hell of a bill he's got for it too -
Gimp Fist
,
In Evil Hour
,
2 Sick Monkeys
,
FD4
, us,
The Senton Bombs
,
R.B.H.
and
One Man Stand
. First band are on at 2pm, we're on at 4.45. Tickets are £10 in advance, in support of three exceptionally worthy charities.
Then we'll be piling back into the van and heading up to the Sanctuary Rock Bar in Burnley to play with the legendary
Vice Squad
and the excellent
Mayhem Freak
. Doors open at 9pm and we're on first, so don't be late!! Hope some of you can make one or the other of these - see ya down the front!!
3/7/16:
We may have been quiet on the old website front, but we have not been idle out on the frontline! Been gigging like mad across the country, our last couple of shows were down in that London and in the beautiful Staffordshire town of Uttoxeter. Both fantastic gigs in front of great people for excellent promoters!
So, today we have a bit of a treat for you. We've made a new video!
Made by the legendary Mr Carl Arnfield of
Chalkman Video
, who was also responsible for the "One Of The Boys" vid from a few years back. Hope you like it, we're all really proud of it!!
In merch news, we are trying a little experiment. We're doing an EXTREMELY limited run of very special t-shirts....
Full colour two-sided print, available in sizes S to XXL (but if you want bigger, order XXL and then email us on kingcrows@tiscali.co.uk and let us know...), ONLY available from
THIS LINK
and ONLY available until Mon 18th July. However many are made will be however many are ordered up to that date. They won't be available through the online shop or at gigs. These are a real one-off run. Go check em out...
Today we're playing in Rotherham for day 2 of Slamfest at the Cutlers Arms. Great bands all day, headlined by
The Members
and
TV Smith
, free entry. If you're in the vicinity, see ya there!!
24/2/16:
Well, the 10th anniversary year is rolling at a hell of a pace now! Lots of fun at the Snooty Fox with the
Yorkshire Rats
and
Mr Shiraz
, and the Pure Mania bash in Bradford was chaos of the best possible kind!! Lots coming up in the next few weeks...
* Friday 26th Feb - Cutlers Arms, Rotherham (supported by
Taxi For Bob
)
* Saturday 27th Feb - Warehouse 23, Wakefield (supporting the legendary
Anti Nowhere League
, also with
Anti Pasti
and
Hospital Food
)
* Thursday 3rd March - Fulford Arms, York (supporting
The DeRellas
, also with
Young Urban Parasites
)
* Saturday 5th March - The Station, Ashton-Under-Lyne (a Fungalpunk all-dayer with 12 great bands, including the
Senton Bombs
,
Most Likely To Fail
,
Trigger McPoopshute
and Norway's finest,
Ronny
Pøbel
).
Then we have a little rest, before the first BIG event of the year - the
LEATHERS, DOCS AND CANDYFLOSS
Easter weekender in Skegness! Running from Friday 25th to Sunday 27th March (we're on the Sunday) and also featuring such bands as
VICE SQUAD, CHRON GEN, SECTION 5, DEMOB, ENGLISH DOGS, BILLYCLUB. SPUNK VOLCANO AND THE ERUPTIONS, SKURVI, BORN TO DESTRUCT, SYSTEM OF HATE, POTENTIAL VICTIMS, KNOCK OFF, WOLF BITES BOY, THE VILE, GEOFFREY OICOTT, MING CITY ROCKERS, KID KLUMSY, FIGHT BACK, SENILE DELINQUENTS, B MOVIE BRITZ, DISCHORD, DOGTOWN REBELS, COMPLETE DYSFUNCTION, MICK O TOOLE, HOSPITAL FOOD
and

CRIMINAL X
. It's gonna be a hell of a weekend, tickets are available from
http://www.skiddle.com/whats-on/Skegness/Grosvenor-House-Hotel/Leather-Docs-amp-Candyfloss-Punk-Weekend/12638465/
for a highly bargainous £38.50 (inc booking fee) for the full weekend!!
See you out there!!
2/2/16:
The first gig of our 10th year was an absolute blast, thanks a million to everyone who braved the Sowerby Bridge snow to come out and see us! Next show is this Friday (5th Feb) at the Snooty Fox, Wakefield, with the
Yorkshire Rats
and
Mr Shiraz
. Hope to see some of you lot down there!!
Later in the month we have the PURE MANIA 1 seven bander, with us appearing alongside
No Thrills
,
Septic Psychos
,
Potential Victims
,
Hospital Food
,
Mammoth Tank
and
Reject Renegades
. Hopefully this will be the first of a series of Pure Mania nights, so come and support it! Entry is free, whatcha got to lose?!
Merch news: the 10th Anniversary merch packs are selling at a hell of a rate! We only made a very limited quantity, so don't leave it too late...!
In the light of
Funland
taking off so well, we've decided to cut the price of
Corvus Maximus
, so that anyone who only knows us from the latest album can check out the older material for a most bargainous £5 (+P&P). That's a piddling five quid for 17 songs. You can't say fairer than that!!
22/1/16:
We've just confirmed a short-notice gig, it's at the Blind Pig in Sowerby Bridge (nr Halifax) on Saturday 30th January. It's the venue's second birthday and we're hugely proud to be asked to play this momentous event! Hope to see some of ya down there!!
13/1/16:
A slightly belated Happy New Year to you all! 2015 was a hell of a year for the Kingcrows; we played a record number of gigs, we finally put out our first proper all-recorded-in-one-go album, we played the Rebellion festival for the first time, and we got reviewed in an actual available-in-the high-street magazine for the first time (
Funland
got a write-up in the excellent
Vive Le Rock
and we got 9/10!!). And we're hoping that 2016 is going to be even better...because it's our 10th Anniversary year! Yes, the inaugural Kingcrows lineup first hit the stage on 22nd December 2006, so we're celebrating a bit this year in the leadup to the decade mark. To say we started off as just a bit of a laugh and a knockabout, we've done pretty well to last this long. Not many people thought we'd make it past a couple of years. We certainly didn't...!
Anyway, as part of the celebrations, we're doing a limited edition pack of merch, containing a special two-sided t-shirt, stickers, a badge, a guitar pick, and either a fridge magnet or a pocket mirror (your choice), all for the bargainous price of £10 (plus P&P). These will be available from Monday 18th January, so keep an eye on the Emporium page...!
Gigging activity resumes on Friday 5th February, when we're back at our spiritual home the Snooty Fox in Wakefield, where we'll be first on in an excellent three band bill with Pontefract's finest the
Yorkshire Rats
and the excellent
Mr Shiraz
. Later on in the month, on Sat 20th we have the
Pure Mania
all-dayer at the Northern in Bradford (also featuring
No Thrills, Septic Psychos, Potential Victims, Mammoth Tank, Hospital Food
and
Clan Of Anarchy
); Fri 26th in Rotherham with the despicably young and talented
Taxi For Bob
in support; and then on Sat 27th we're back in Wakefield to play Warehouse 23 with the
Anti Nowhere League, Anti Pasti
and
Hospital Food
. And March is gonna be even more manic...see you all out there!!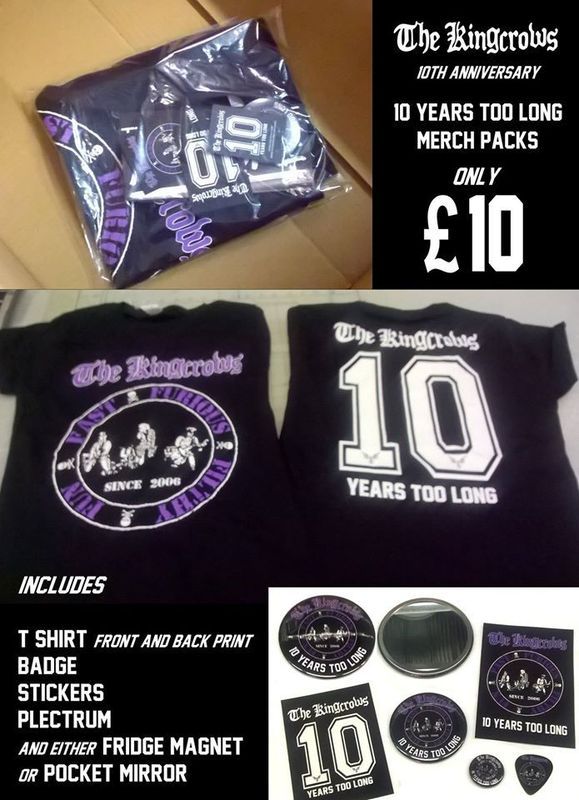 30/9/15:
We're just having a quick breather after a burst of hectic giggery. Been having a lot of fun on the road! We're back on stage on Friday 16th October at the Northern in Bradford, supported by our mates
Mammoth Tank
and
Hospital Food
! Looking forward to it, particularly after the mayhem of our last show there...!
In the meantime,
Funland
has been selling at a surprising rate, and lots of people have been saying nice things about it. We've even had interest and some very nice messages from mainland Europe, so there's a possibility we may be going international in the New Year...we'll keep you posted if and when we can get anything sorted about that.
So, if you haven't yet got yer paws on this little beauty, now's the time. Go have a look at the Shop page. Then you can say you were into us before we went global....! See ya out there!!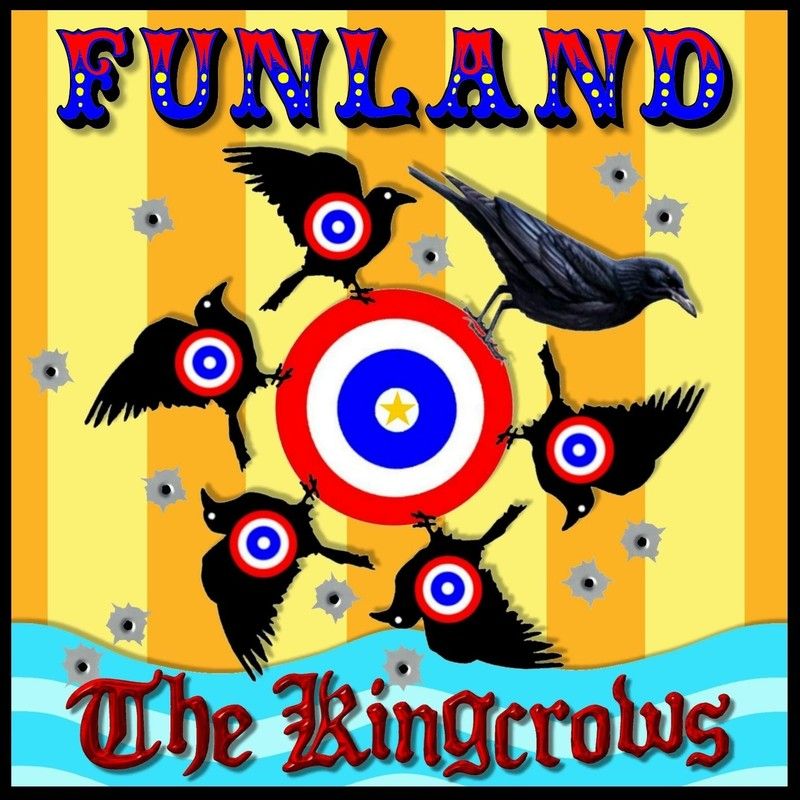 15/9/15:
Just a quick update! Firstly a reminder - BAT FEST in Burnley is this weekend, 18th-20th Sept. We're playing on the Saturday, there are thirty or so of the best grassroots punk, rock, metal and alt bands around over the full weekend. Definitely going to be a weekend to remember, and an event that deserves support!!
Secondly, a short-notice gig - we're doing a rare hometown gig on Friday 25th September. It's at the Bad Apples Rock Bar in Leeds (on Call Lane, between the market and the Corn Exchange, next door to Pagan Body Piercing) and we're supporting hard-touring French/American punk-metal outfit
Tarah Who?
. More bands are still to be announced, it's gonna be a good one!! See ya out there!!
11/8/15:
Well, the Rebellion Festival was a huge success! Fantastic crowd, great organisation, a hell of a lot of fun all round. Amazing to see so many of you lovely people there, cheers for the brilliant reception! Massive thanks to everyone who took the time to come and see us, all the people who we talked to, everyone who helped us out and made the whole thing possible - hope you all enjoyed it as much as we did!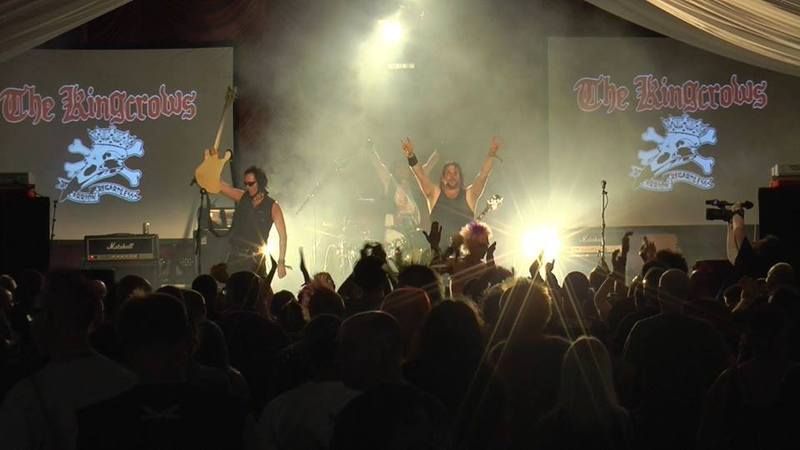 The new CD
Funland
was released at the festival and lots of people bought copies from us. It's now available at the
Official Emporium
, along with a couple of new t-shirts. Go check 'em out!!
More gigs coming up - next time out is at the Northern in Bradford on Friday, supported by our old mates
Mammoth Tank
plus young chaosmongers
Clan Of Anarchy
, then on 11th September we're down in sunny Scunthorpe on a bill which also features, among others,
Fascist Badgers
and
The Corvids
, and then on the weekend of 18th-20th Sept there's
BAT FEST
. It's a brand new festival being held in Burnley (at Lowerhouse Cricket Club) featuring the best of grassroots talent from the punk, rock, metal and alternative underground. Other bands appearing include
Billyclub, the Idol Dead, Pink Hearse, Vomit, Healthy Junkies, Petrol Bastard, the Kirkz, Paul Carter, Mayhem Freak, Xtract, the Fornicators, Potential Victims
and loads more. We're on the Saturday, but th whole weekend looks great! Tickets are a piddling £35 for the full three days - details at the
Bat Fest Facebook page
.
See you all out there!!
23/6/15:
There's been so much great stuff happening lately it's hard to know where to start listing it all!
Our sixth appearance at Nice 'N' Sleazy was a colossal blast, thank you a million times to everyone who came in and packed that hall, it was such a buzz to see so many people going mad to our stuff! Later that night we got to reprise our roles from a couple of years ago as the incomparable
Ed Tudor Pole
's backing band on the classic "Swords Of A Thousand Men", which was once again a fantastic experience.
Less than a week later we rolled up at the Corporation in Sheffield to play support to
The Lurkers
, it's always huge fun to play with them and hanging out with Arturo Bassick is always an exercise in hilarity! Another excellent show, great venue and great people.
Fast forward a couple of days and we were in Wakefield at our home-base venue the Snooty Fox to open for
Richie Ramone
- a massive honour, even if the man himself wasn't actually in the house when we played due to a van breakdown en route. Still, lovely to see the Snooty so well attended on a Monday night, and Richie's set was a joy to witness.
Next up was a trip to Rotherham for another show with Mr Tudor Pole, who yet again invited us to back him up on "Swords". This was a particularly fun session, a late-afternoon gig on an outdoor stage in truly glorious weather, and Ed was in exceptionally fine and relentlessly eccentric form. He's a real one-off, a genuine national treasure, and it's brilliant to be asked to share a stage with him.
To round off this run of gigs with a flourish, June 20th saw us do two gigs in one day - firstly a slot at the Live In Barnsley town festival, our second appearance at this great event (yes, they actually let us come back!), and then a set at the Dylan's Day charity bash at the Northern in Bradford. It was a long day, but it was a hell of a lot of fun!!
So do we get to have a breather now, then? Don't be silly. This Friday (26th June) we will be hitting the stage at Brooklands in Batley as support to original '77 legends
Chelsea
. No rest for the wicked, and that's exactly how we love it!!

The stages and time slots for the massive REBELLION festival have been announced! We're on at 1.20pm on the Pavilion stage on Sunday 9th August. Our first time at Rebellion and we are itching to get out there and tear the place apart. If you're going to be in sunny Blackpool this August, nip in and see us!! Full day/time/stage listings are available at http://www.rebellionfestivals.com/line-up/stages
along with details of how to get tickets. It's gonna be an incredible weekend!!

Oh, incidentally, we've just added a little something to the Official Emporium. We now have Kingcrows bottle opener/keyrings for sale, bearing the ever-popular "Beer & Whiskey" design. Two quid apiece, plus postage, for an indispensible bit of kit!!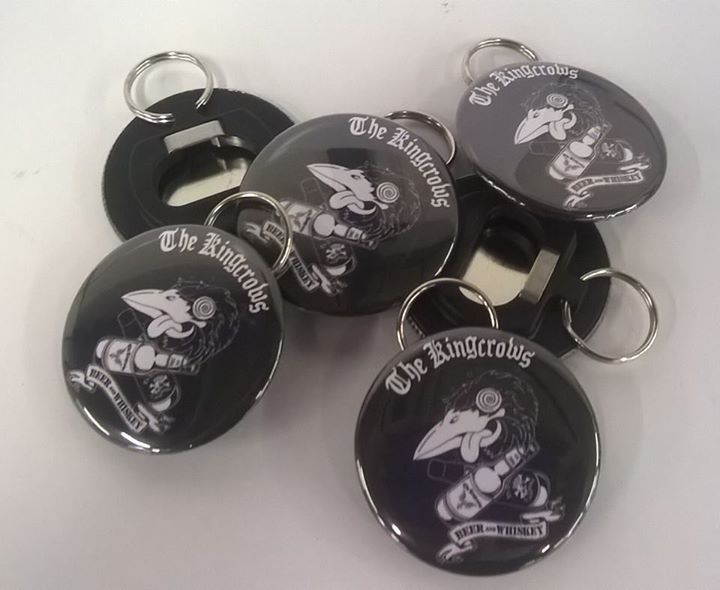 9/5/15:
It's nearly that time again! In a couple of weeks it's our annual trip to the seaside for the Nice 'N' Sleazy festival in Morecambe. The event runs from Friday 22nd to Sunday 24th May (with a convenient Bank holiday Monday to recover!), we're playing the main stage on Sunday evening, and there are a boatload of other great bands on over the course of the weekend. You want names? Try these...XSLF, VICE SQUAD, GOLDBLADE, THE VIBRATORS, RESISTANCE 77, DIRT BOX DISCO, T.V. SMITH, ED TUDOR POLE, ANTI SYSTEM, THE EDDIES, PINK HEARSE, THE FORNICATORS, THE PUKES, OBNOXIOUS UK, HUNG LIKE HANRATTY, HEALTHY JUNKIES, THE KIRKZ, DESTINNATION VENUS, VOMIT, THE X-RIPPERS, MAYHEM FREAK... More than 50 of the UK underground's best punk acts, and one or two from a little further afield! Fifty quid for the entire weekend - and that includes your camping - you just can't get a better deal than that. Tickets available from
www.nicensleazy.info
- don't miss it, it's going to be a mad old weekend!!
But the madness doesn't end there. The following week, Sat 30th May, we're at the Corporation in Sheffield to support the fantastic LURKERS (the bill also includes W.O.R.M. and HOSPITAL FOOD), and then two days after
that
we're at the good old Snooty Fox in Wakefield to open for the legendary RICHIE RAMONE. Gonna be a busy few weeks...see ya out there!!
9/4/15:
Quick update after our last one - it's just been confirmed that we will be opening for the legendary RICHIE RAMONE at our spiritual home, the Snooty Fox in Wakefield, on Monday 1st June. For those who don't know, Richie was the drummer for the Ramones for five years, playing on the
Too Tough To Die
,
Animal Boy
and
Halfway To Sanity
albums, and wrote the classic "Somebody Put Something In My Drink". It's a huge honour to be sharing the stage with one of the three remaining Ramones!
Tickets are priced at £8 and are available at
WeGotTickets
. Be quick, they're going fast!!
5/4/15:
Been a busy few weeks for us, had a few great gigs and booked a load more for your delectation. April is going to be a chaotic old month for us, we have a bit of a World Tour Of West Yorkshire happening this month - the 10th sees us hitting Bradford backing up Vomit, the 17th has us in Wakefield with the Captain Bedderz band, on the 23rd we're opening up for the Yorkshire Rats in Huddersfield, and then on the 25th we'll be supporting original punk legends Chelsea in Leeds. Venue details and full lineups are on the Gigs page, go check 'em out! We're also waiting on confirmation for a great gig coming up very soon, watch this space for details...
Also, a few announcements about the merch page. Firstly, the
Gonna Grow Up One Day
EP is now officially SOLD OUT. We may re-press it at some point in the future, but we have no current plans to do so. The tracks from the EP are, however, still available to download via iTunes, Amazon or any of the major MP3 outlets. We've also just added a new item to the shop - due to popular demand, we finally have some decent patches to sell!
These 8cm x 12cm beauties are priced at a piffling £2 apiece, hope you like 'em...
16/2/15:
Ladies and Gentlemen - The Kingcrows are back in the saddle. Sunday 15th Feb saw The Kingcrows end their 3 month dry spell of not gigging with their first gig of 2015. And what a gig it was! Fantastic support from Mammoth Tank and Captain Bedderz (who were playing their first ever gig. The Kingcrows thank you for letting us take your cherry!), and a wonderfully rowdy crowd. Barnsley, We thank you.
Our next outing is going to be in Sheffield on the 28th Feb at the Dove and Rainbow, supporting our mates The Fuckwits and Sugar Louise (all the way from Norway). Check out our gig guide for more details. We hope to see as many of you there as possible. Don't forget, if you want The Kingcrows to come and bother you at your local venue just drop us a line and we'll see what we can do.
Until next time Crowfans...
21/1/15:
Happy 2015 to y'all. It's been a while since our last update - ooops, our bad. But onwards we trot. 2015 promises to be a big year for the Kingcrows. The Funland album is coming soon, 11 tracks of pure Kingcrows mayhem of the highest grade. Release details will be posted here as soon as we have them.
This year also marks our sixth trip to the Nice 'N' Sleazy festival in Morecambe. This year's line-up is absolutely awesome; a proper greatest hits package, also featuring the Vibrators, Goldblade, TV Smith, Vice Squad, XSLF, Ed Tudor Pole, Dirt Box Disco and a multitude of quality acts. Well worth getting your bottoms down to.
Also, we've been asked to play a little punk festival in Blackpool in August. Hell yeah baby - the Kingcrows are going to Rebellion! Get in there!
Plus throughout the year we'll be dragging our sorry carcasses up, down and around the country to bring you the finest Yorkshire grown sleaze punk rock'n'roll. Currently confirmed dates are available on the Gigs page, so keep your peepers peeled and watch this space…
Our next gig is on Sunday 15th February at the Polish Club in Barnsley. Featuring Mammoth Tank, Captain Bedderz and us. Free entry, early start and early finish. Get yourselves down, it's a cracking venue and a cracking line up.
Until next time, live long and perspire!
8/8/14:
It's been a busy old couple of months here, as we dragged all our gear into Loom Studios in deepest Birstall on a roasting July morning to record our latest masterwork! Depending on how you look at it, this will be either our first or second album - Corvus Maximus was a full album-length CD, but it was composed of previously released material, and this is the first time we've decamped to a studio to spend a week doing a full album in one go. The sessions were hot, sweaty and noisy, but great fun and VERY productive. We've put down eleven songs, some of which have already been gigged and some of which have yet to be heard by the wider world. It's all sounding pretty damn great so far; the tracks will be mixed and mastered in September and the finished album - to be titled Funland - will be released early next year through the excellent STP Records. We can't wait!!
Our next gig is one we've been looking forward to for a long time - we're supporting LA's legendary fun-punks The Dickies at the Star & Garter in Manchester on Sunday 17th August. This is an early show, the doors open at 3.30pm, first band is onstage at 4.10pm, we play at 6pm and the Dickies are on at 8pm. Also appearing are Immoral Ethics, Vomit and 3CR. We're all massive fans of the Dickies, so this gig is an ambition fulfilled for us!!
The week after that (Sunday 24th) we're back at Brooklands in Batley to play their fifth Punkfest. Headlined by Machine Gun Etiquette (a tribute to The Damned), the rest of the running order comprises The Kingcrows, UK Skunk, Fat Henry and From The Gut. Again, this is an early show (doors at 3pm, finishes at 9pm), and we have tickets available for a bargainous £5 - email us if you're interested!!
Please note that our previously announced date at the Vintage Rock Bar in Doncaster has been postponed to Friday 7th November. Details to follow...

14/6/14:
So presumably you all survived Friday 13th then! Been a busy few weeks since the last update...Nice N Sleazy was a fantastic weekend as per usual, thanks to the surprisingly large amount of people who crammed into the marquee to watch us, and a particularly big thanks to Big Dave for making us sound so good despite half the drum kit falling off the stage. It wouldn't be a Kingcrows show without something going horribly wrong!
The following week saw us back in Leeds supporting ex-Boys bassist/vocalist Duncan Reid and his new band the Big Heads. A sadly under-attended gig for the mighty Duncan, who put on a great show. Phil and Ratbag, back in their Assassination Bureau days, used to cover a number of songs by the Boys so it was great to see them being done by the master. Our set was at least very well-received by those diehards who made the effort, and it's always nice to play the Brudenell - a fantastic venue.
Finally a quick hop to Wakefield for the Pogo For Kumbuka 6-band punkathon, a cracking day for all concerned. All the bands played excellent sets, loads of top bands donated gear for the raffle, and the event raised over £400 for the orphans of Tanzania. Pats on the back to all concerned there. Unexpectedly, we also got our mugs in a couple of newspapers in the previews for the show too. Bet that startled a few commuters...
Unfortunately our previously announced show at Gibsons in York this Friday has had to be cancelled, due to the venue needing building work. Plans are already afoot to get back to York as soon as possible, we'll keep you posted.
Next Saturday (21st June) sees us hitting the Live In Barnsley festival. LIB is a multi-venue cross-town free indoor festival with 117 acts playing all day across 13 venues, and we're closing proceedings at The Shakespeare (Wellington Street, S70 1SS). We're onstage at 8pm, and there's great stuff on all day across the town, so make a day of it! Check out http://liveinbarnsley.co.uk/ for more info. See ya down there!!

23/5/14:
Wow, end of May already?! Doesn't time fly... Just a quick note before we head off for our fifth appearance at Morecambe's amazing Nice N Sleazy festival - 2pm Saturday afternoon, Marquee stage, see you all down there! - to keep you updated. The first leg of the Spring Offensive was a blast, with great shows in Rotherham, Carlisle and Nottingham. We're just commencing the second leg, with the following dates:
24 May: Morecambe, Nice N Sleazy festival (www.nicensleazy.info)
31 May: The Brudenell, Leeds: supporting Duncan Reid & the Big Heads (ex-The Boys)
7 June: Snooty Fox, Wakefield (Pogo For Kumbuka charity gig in aid of an orphanage in Tanzania, also featuring Hotwired, Lowlife UK, the Krayons, Murdaball and Hospital Food)
Hope to see some of ya out and about over the next few weeks, and keep an eye on this page for news of the new album...cheers!!

25/2/14:
Just to let you all know, the previously announced gig with the ex-Glitter Band guys has been cancelled by the venue. Apologies for the disappointment, we were looking forward to that...

8/2/14:
So, just over a month into 2014 and we're well off and running. Last night's gig with the fantastic Lurkers was a brilliant time, massive cheers to everyone who came down and especially to Arturo and the lads, who are all absolute stars!
Our next gig is a little bit of a departure from the usual punk rock types we normally play with; we're making with the '70s glam rock, as we'll be supporting John Rossall and Harvey Ellison, two founding members of The Glitter Band. The venue is Warehouse 23 in Wakefield, the date is Saturday 8th March and tickets are £10.50 advance (slightly cheaper if you get them from us!) or £12 on the door.
Work on the new material is well underway, one of the new songs is already firmly embedded in the set with many more on the way. We're intending to do a full new album this year, but we're gonna need your help to do it - more details to come soon...!

10/11/13:
Hell's teeth, is it really six months since we updated this? Sorry about that, we've been a bit busy. Gigging mostly. We've been all over the place this year, done a few festivals and a lot of smaller shows, getting in the faces of as many people as we possibly could. We're already making plans for next year, lots of new gigs in the pipeline (including Nice N Sleazy 2014, our fifth year on the trot!) and we're working on a boatload of new material, so watch out for that!
We've got another three gigs left for 2013: on Fri 22nd November we're supporting Barb Wire Dolls at Brooklands, Batley; then on Fri 20th December we're at the Black Swan in Bradford for a headliner. This particular show is a special one cos it's our singer Phil E Stine's 50th birthday bash! It's gonna be a mad one, support is from Hospital Food, and entry is free, so don't miss it! Finally, on Sun 29th December we're over at the Star & Garter in Manchester, supporting Oi legends The Business. Hell of an end to the year!


21/5/13:
Well, Nice N Sleazy was a phenomenal weekend yet again, the thing just gets better and better every year! The weather was great, the people were excellent, the bands were incredible and the beer was plentiful...! We saw so many brilliant bands, and our set was a hell of a lot of fun (despite a number of equipment problems, such as Ratbag's kick pedal disintegrating mid-set), but by far the highlight for us was backing up the legendary Ed Tudor Pole on "Swords Of A Thousand Men". Ed's a true rock 'n' roll hero and an absolute gent to boot, and it was a massive honour to play with the guy. To show just how much fun it was, here's the video evidence:
Don't forget our June gigs - Sat 1st at the Snooty Fox, Wakefield (supported by Destroy The Skyline and The Franceens); Weds 5th at The Library, Leeds (opening for A Pretty Mess and The Smears); Thu 13th at Gibsons Rock Cafe, York (with The Jackhammers, The Franceens and Manscreams) and Sat 29th at The Black Bull, Gateshead (supported by The Franceens). Hope to see you all at one or more of them!!
Oh yeah, one more thing - there's a couple of new merch items now available in the online emporium - the military-green "Carrion Regardless" skull 'n' crossbones t-shirt and the first official Kingcrows hoodie! Go check 'em out...

19/5/13:
Next weekend is Nice N Sleazy weekend! The best grass-roots punk festival in the UK, and one of the highlights of our year, this year is our fourth appearance at Morecambe. This year's bill is possibly the best yet, with GBH, UK Subs, Vice Squad, Ed Tudor Pole, Goldblade, Drongos For Europe and over 50 other great bands tearing up three stages. We're on at 5pm on Sunday (just before the legendary Ed Tudor Pole). See
www.nicensleazy.info
for details, and we'll see ya in the bar! We'll have some excellent new merch available too, so keep an eye open for that...
The
Corvus Maximus
launch show was absolutely insane, thanks a million to everyone who came down. Jamming out "(I'm Not Your) Stepping Stone" with a hurdy gurdy player, with half the audience on stage doing backing vocals while Phil crowdsurfed away to the far end of the venue will live with us for a LONG time...
The album is ticking along nicely at the moment, and we have a few gigs in June coming up to flaunt the thing around. 1st June sees us at our home base the Snooty Fox in Wakefield (bill to be confirmed), then on the 5th we're at the Library in Leeds, opening for LA punk n roll crazies A Pretty Mess and the UK's finest all-girl punk band The Smears. Then, on Thursday 13th we head up to York to play Gibson's Rock Cafe with The Jackhammers and The Franceens. Finally, on Saturday 29th we make a long-overdue return to the Black Bull in Gateshead (with the Franceens in support) - we had an amazing time there last time and we're really looking forward to getting back! You have to keep busy, y'know...
22/3/13:
Less than a week to go before the launch of
Corvus Maximus
! The release gig is gonna be a lot of fun - as we said before, it's at Carpe Diem (Great George Street, Leeds LS1 3ED) on Thursday 28th March. Entry is free and two excellent support bands are confirmed (The Franceens and Total Disfunction).
There's a convenient bank holiday the day after for recovery purposes too, so don't miss it!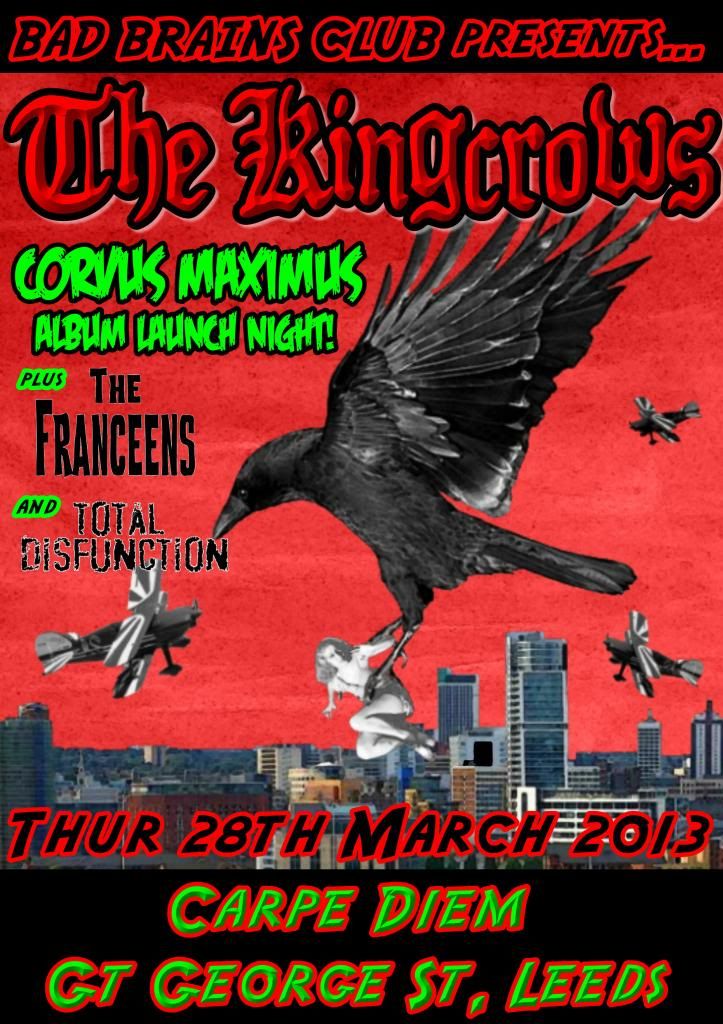 In the run-up to the release, Kingcrows Online had a conflab with Ratbag about the upcoming album...

KCOL: So, what was the reasoning behind this album then? All the material's been out before, why repackage it?
RATBAG: The original idea of doing EPs was largely done out of practicality; we couldn't afford to do a whole album in one go, and we didn't know if anyone would pay out for a whole album from a band they didn't know at a pub gig anyway, so we decided to record shorter CDs and put them out more often. After three EPs though, it got to the point where people were coming up to buy CDs and we were having to ask which they wanted, and then they'd ask what was on each one, and it all started to get a bit impractical. So we started thinking about amalgamating the whole lot onto one CD, and then Stu Taylor of STP Records invited us to put something out on his label. We'd known Stu for a couple of years by then and he's definitely one of the good guys - he runs the label purely for the love of the music and doesn't have any time for bullshit. He has a long history of working with excellent bands; we were honoured that he'd asked us, to be honest! So, that was pretty much a done deal straight away.
The great thing about putting out the compilation is that working with Stu, we can get our stuff across to more people. Having a label with a good reputation behind us, even a small one, will allow us to do a bit more than we could do by ourselves. We're proud of the stuff we've done so far and we think it deserves a wider audience!
KCOL: Are the tracks just as they were on the original EPs?
RATBAG: More or less, although we did get Grant [Henderson, Kingcrows producer] to give them a bit of a going-over. We originally just wanted him to balance out the volume levels, so the whole thing would run through without any annoying level jumps, but instead he went back to the original multitracks and remastered the whole lot of them. Apart from that they're the same - we kept the original running orders and everything, cos we just wanted it to be the same experience but all in one place.
KCOL: Will the album be available to download?
RATBAG: Not as a single thing. All the original EPs are still up for download in all the usual places, and we didn't think it was worth re-submitting them when all the songs are already available.
KCOL: So what's the next move? When will we see new material? Will the next release be an EP or a full album?
RATBAG: Well, it's not long since we put out the Gonna Grow Up One Day EP, which isn't on the album, so we're not planning to record again just yet, but we have started writing new stuff. The process is underway again! As to whether it'll be an album or EP, we really don't know yet, we'll just see how things pan out. We don't like to plan stuff too much. If you don't plan anything, nothing can go wrong...

9/2/13:

Six weeks and four gigs into the year and it's shaping up to be a brilliant one! Got new bookings coming in at a hell of a rate, our next gig is at the Snooty Fox in Wakefield (which has pretty much become our home venue over the last few years) next Saturday, 16th Feb, with support from two of the best acts on the local punk scene - The Swindells and Wild Trash. Entry is, as usual for the Snooty, totally free and a great night is guaranteed, so don't miss it!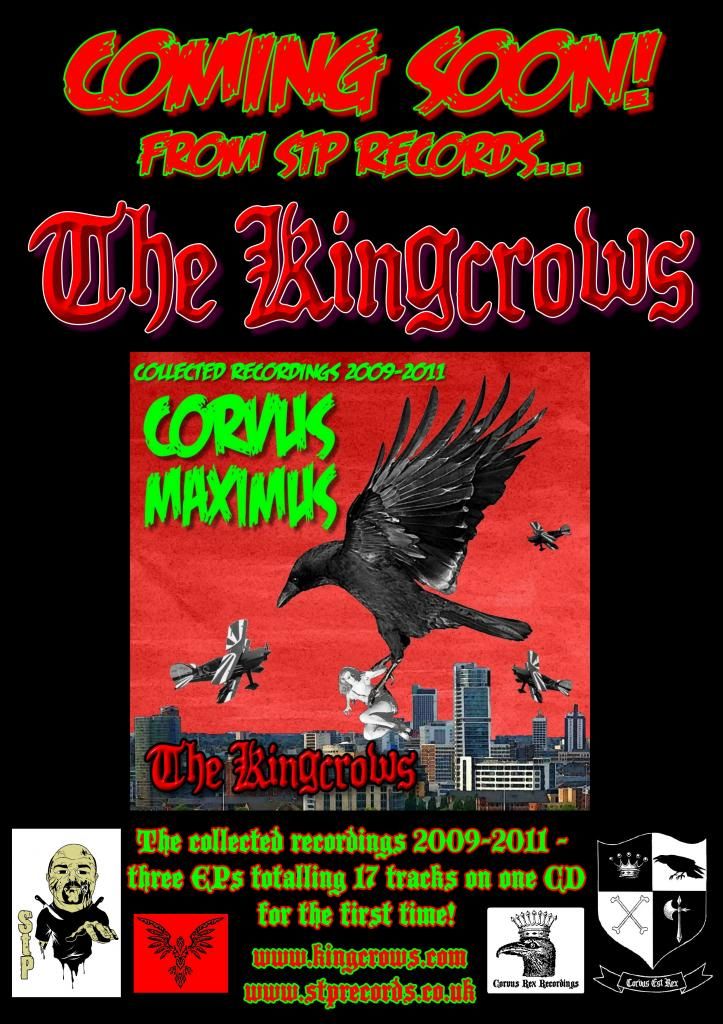 The CORVUS MAXIMUS compilation album will be officially launched on Thurs 28th March at a rare Leeds gig, at Carpe Diem''s Bad Brains clubnight. The tracklist for the CD is as follows:

HANGING AROUND
STILETTO GROOVE
WHAT SHE DOES TO YOU
SEX, OUI
REVOLUTION STREET
ONE OF THE BOYS
WRITING ON THE WALL
MAGDELENE
INSULT & INJURY
IN FOR THE KILL
WHO ARE THE MADMEN?
PARTY
DON'T YOU KNOW
RENEGADES
LUNCHTIME AT LUBY'S
THE KIDS ARE ALL WRONG
FRIDAY NIGHT HEROES

All 17 tracks have been fully remastered by our uberproducer Grant Henderson and they sound incredible. We're all looking forward to getting this CD out so we can worry an even wider audience!! Both the A Murder Most Foul and Up Before The Beak mini-albums have sold out now (congrats to all those who bought them, you might be sitting on a collector's item there...yeah right...!) so the compilation will be the only place to get those songs on CD, though they'll still be up for download in the usual places. Talking of which, the Gonna Grow Up One Day... EP is now available for all you futuristic types to download. We love it and think more people should hear it. Go on, fill yer boots!!

14/1/13:
Hope you've all managed to get through the season of excess reasonably unscathed! We're back in business after the break, and last Saturday's show at Indigo Alley in Scarborough was a great start to our gigging year. Coming up this month we also have a headline show at the Hallcross, Doncaster this Saturday 19th, supported by Barnsley dark-punk merchants System Of Hate (doing their debut gig), followed by an early evening show at the Star & Garter in Manchester on Sunday 27th. This one's an STP Records special, we're playing between The Angry Bombs and Hooligan (Dublin) - doors are at 5.30pm and the show ends at 9.30 to allow for public transport.
Couple of bits of release news for you - firstly, the Gonna Grow Up One Day... EP is due for digital release on 19th January, available from all the usual places. Secondly, we're very proud to announce that we'll be putting out a compilation album containing all the tracks from the A Murder Most Foul, Magdelene and Up Before The Beak EPs through the fantastic STP Records. Titled CORVUS MAXIMUS, the album is due out in March. Be warned, you're gonna be seeing a lot of us in the next few months...!!

13/11/12:
The Bramley Music Festival was a lot of fun, first time we've played outdoors (damn cold it was too!), and certainly the first time we've been followed onstage by a member of Black Lace. Twenty minutes of our racket followed by "Agadoo" and a ten-minute extended workout of "I Am The Music Man"? Yeah, it was as weird as it sounds...

The last few weeks has been utter madness of the greatest kind, with a rash of amazing shows and the release of the new EP. The Snooty Fox gig almost went horribly wrong, what with the unexpected split of Ethos Theory and the last-minute dropping out of Chasing Dragons, but we moved up a slot and the brilliant Honeycomb Love rounded the night of with a set of supercharged sleaze rock n roll. Great night.
Three more gigs left for this year - a private party in Doncaster on 1st December, a four band bash at the Riverside in Selby - where our first ever gig was perpetrated - on the 7th (with Velvet Star, the Idol Dead and Blacklist Saints; I think we're on first for that one, so be early!), and then on the 15th we're opening for Rat Scabies and Brian James again! This one's at the Well in Leeds, so it's a rare hometown gig too, and it also features cricketpunk loons Geoffrey Oi!cott.The new EP is now available at the Online Shop for a bargainous three quid plus postage, so...you know what to do!!


16/10/12:

We're gonna be busy over the next few weeks!! The new EP
Gonna Grow Up One Day...
is at the duplicators and should be hitting the streets on October 28th. In celebration of this 'ere momentous event, we got a few shows to do! This Sunday, 21st October, we're at Cookies Bar in Halifax with
The-Front
(female-fronted punk rock all the way from Casper, Wyoming) and Nottingham's noisiest
Girlfixer
. The following Saturday (Oct 28th) we're doing a special Halloween charity 6-band show at the Snooty Fox in Wakefield, with
Ethos Theory, Chasing Dragons
(feat ex-Kingcrows guitar whizz Zebs),
Honeycomb Love, Anchored By Avarice
and
Backstab Burial
. All live, noisy, and doing it in fancy dress!!
The day after that (Sunday 29th) we're playing the inaugural Bramley Music Festival in Leeds's Bramley Park, which promises to be a strange old day. There's an Abba tribute, a Lady Gaga tribute, a rapper or two, a couple of rock bands, an acoustic folkie, various turntablists and pop singers, and at 12.45 in the afternoon there's us. Oh, and a dog fancy dress competition. And an Intergenerational Marquee, whatever the piss that is.
But does the fun end there? Hell NO!! Friday 2nd November sees us back in Wakefield to once again support the mighty
UK Subs
(with Wakey punk veterans
Bleed
also on the bill) at The Hop
, and then on Saturday 3rd we're hauling up to Gateshead to play at The Doll @ The Black Bull with our old buddies
In Evil Hour
. It's gonna be chaos, but it's gonna be fuckloads of fun!!
3/9/12:
We may have been slightly neglecting the website lately (sorry about that!) but we sure as hell haven't been idle. Between gigs all over the shop and a well-earned couple of weeks off while various band members went off on holiday, we've been recording again! The new EP, due for release in October, will be called Gonna Grow Up One Day... and features four tracks: "Down For The Count", "West City One", "Dead Momma's Grave" and "Gonna Grow Up One Day", and we think it's great - certainly the best-sounding recording we've ever done!! More details to come...
Also, we're currently sorting out the details of a special collaboration with the best little independent punk rock label in the UK, STP Records; we're REALLY excited about this! Watch this space!
Next time out, we're supporting the legendary Vice Squad at the Hallcross in Doncaster on 29th September. Pretty sure most of you know how great that's gonna be....don't miss it!!

8/7/12:
The last few weeks have been absolute chaos, it's been brilliant. Great support slots with the Rezillos, UK Subs and Scabies & James, a great pub gig over in Stockport, and a headliner last night at the Black Swan in Bradford. Thanks a million to all the people who saw us and enjoyed what we did, especially those kind enough to buy CDs and t-shirts! The purple shirts are proving incredibly popular...
Got a couple of weeks' breather now until the next gig, that's another headline show at the South Sea in Sheffield. Joining us on the bill are Bradford glam-punk loons St Tantrums, barking mad acoustic types Pocketful O' Nowt, and experimental artrockists Henry's Radio. Come down, it's gonna be a mad night!
6/6/12:
Well, Nice N Sleazy was a fantastic weekend, thanks a million to everyone who helped make it such a success! So many great bands, so many cool people...SO much alcohol...!
We had some new t-shirts on sale at Sleazy, and now they're available right here right now! It's a new twist on an old classic, in a rather fetching shade of purple....

See the Online Shop if ya want to snag one of those beauties! A measly fiver to you, and available in all sizes from Small to Extra Extra Large!! (The other designs are also now restocked in all sizes, so go for it!)
Next gig is at the Baker's Vaults, Stockport next Wednesday, with No Decorum and Morphine Ghost. It's free in, so we'll see ya there!!

24/5/12:
In slightly over a week's time - Friday 1st June to be precise - it'll be time for the Nice N Sleazy Festival again! One of the best weekends of the year, three days of bands, beer and big breakfasts by the sea! We're playing on the Sunday night (3rd June), just before The Business - it's our third time playing Sleazy and it's always a great laugh. Other bands appearing over the course of the weekend include the Anti Nowhere League, Demob, Dirt Box Disco, Roughneck Riot, Acid Drop, Lowlife UK, Girlfixer, Total Bloody Chaos, Last Gang In Town (featuring our original vocalist Tony), Guttersluts (Phil's previous band), No Thrills (Rocco's old band), X Rippers, Sky Rocket Jack, the Drastics, Wild Trash, Suicide By Cop, In Evil Hour, Senseless and dozens more great acts! Camping's free, the booze is cheap, and the tickets are just £40 for the full weekend. Check out http://www.nicensleazy.co.uk for full details...
June looks like it's gonna be a hell of a month for us. Apart from Nice N Sleazy, we have a show in Stockport on the Wed 13th (bill to be announced), then on Sat 16th we have a rare hometown show, as we open for the phenomenal Rezillos at the Brudenell, Leeds. The following Friday (22nd) we're at the Brooklands in Batley, supporting the relentlessly brilliant UK Subs for an amazing fifth time - they'll be sick of the sight of us...! Then a week after that (Fri 29th) we're up in Hebden Bridge at the Trades Club to support ex-Damned legends Rat Scabies and Brian Jamesas they blast through the whole of Damned Damned Damned, and probably a sizeable chunk of Music For Pleasure too! Will we survive the sheer stupendousness of all these great shows? Stay tuned to find out....!
17/5/12:
Unfortunately the gig at the Talbot Social Club, Blackpool has had to be postponed for reasons beyond our control. We'll let ya know when it's rescheduled - apologies for the inconvenience!
2/5/12:
May is shaping up to be another mad month - firstly, on Sun 6th we're back at the Witchwood in Ashton-Under-Lyne for the second day of a massive punk weekender in aid of the Sophie Lancaster Foundation. Bands for the Saturday include GBH, Drongos For Europe, Billyclub, the Restarts, Dirt Box Disco and In Evil Hour, while alongside us on the Sunday there's One Way System, The Outcasts, Xtract, the Vox Dolomites, Epic Problem and 3CR. Great bands, and a fantastic cause - see ya there.
Then we're going on a coast-to-coast tour!! ....well, sort of. We're certainly going coast to coast anyway - we're playing Shades in Bridlington on Sat 12th May (just us playing at that one - we're doing two half-hour sets, with the first one starting at midnight!), and then on Fri 18th we're over on the opposite shore at the Talbot in Blackpool supporting Senseless. Come and join us at the seaside - to hell with the weather, we'll have a good time even if it's pissing down!!

31/3/12:
Unfortunately the Chester gig scheduled for April 14th has been cancelled, as the venue (the Chester Hangman) has closed down. Apologies to anyone who was planning to attend.

Still lots of great stuff going on in April though! Tomorrow, Sun 1st April, is the Batley Punkfest at Brooklands with the legendary VICE SQUAD. Then on Sat 7th we support glam-punk titans WRATHCHILD at the Gasworks, Bradford, and on Sun 8th we play the Crescent, Salford as opening act on the third day of their huge Easter punk weekender. Gonna be a busy busy month!!

20/3/12:
The Kingcrows have been added to TBFM's New Music List! Great interweb radio station, wall-to-wall rock, punk and metal, give 'em your support!!



15/3/12:
The Kingcrows are hugely chuffed to announce we'll be supporting the incredible REZILLOS on Saturday 16th June at the Brudenell Social Club in Leeds. This is going to be an amazing night, the Rezillos haven't played Leeds in years and the Brudenell is a fantastic venue. Also on the bill are the thoroughly mental Sky Rocket Jack, so don't miss it!
Next Kingcrows gig is on Sunday 1st April, at Brooklands Bar in Batley - it's Batley's second Punkfest, this time featuring the legendary VICE SQUAD, plus us, Girlfixer, Wild Trash and Fat Henry. It's an early start and finish for this one, doors open 3pm and it's all over by 10pm to allow for the Sunday public transport system...! Tickets are a piddling £5 from the venue, or you could get them from us for £4 - email us for details!
1/3/12:
Bad news about the Gateshead gig on Saturday - unfortunately, the venue's gig room has an electrical problem and needs to be rewired, and the job won't be done in time for our show, so we've had to postpone the show. Apologies for the inconvenience. We'll be rescheduling as soon as possible, watch this space!

29/2/12:
So that was February, eh?
Firstly, HUGE apologies to anyone who attempted to see us in Hull on the 4th. I dunno - we have one day of snow all winter, and the roads become impossible to use. We set off with all good intentions, but should have taken the hint when Ratbag couldn't get the van up the hill to Lee J's house. Foolishly, we dragged the gear down the hill by hand and set off into the blizzardy night; however, after taking over an hour to get 20 miles to Ferrybridge services, we had no alternative but to give in and turn back. (As it turned out, it took twice as long to get back, and THEN we had to drag the gear back up the hill by hand!) So, sorry about that, we'll be back to Hull to make it up to you as soon as possible!
Our debut visits to Sheffield and Blackpool went much more smoothly, we're glad to report, and we're looking forward to coming back to both places shortly. In fact, we'll be back in Blackpool on 18th May at the Talbot Social Club, supporting the mighty Senseless.

The other big (and rather unexpected) news this month is that our resident guitar maniac Lee J has become an official endorser of Italia Guitars for his long-term abuse of his trusty trademark Italia Torino...see his page on their website at www.jhs.co.uk/kingcrows.html!
Next gig is this Saturday, 3rd March, at the Black Bull in Gateshead. Our first time in the North East, it's a free entry gig and support is from local lads Maximum Zeros. See ya down the front!
29/1/12:
Been a busy weekend for us! Last night we had a great time playing at Stereo, York with three other ace bands - Sky Rocket Jack, Revenge Of The Psychotronic Man and The Vexed. Hell of a venue, great crowd, excellent bill! Hoping to be back soon!
We've just had another couple of gigs confirmed; firstly, we've got a show at the Gasworks in Bradford supporting the brilliant and newly reformed '80s shock-glam legends Wrathchild on Saturday 7th April. Then on Saturday 12th May we're having a jolly out to the coast to play Shades in Bridlington - that's gonna be a late one, we're hitting the stage at midnight!
Also, we can now finally unleash our first ever promo video! We made it about 18 months ago for the Fungalpunk DVD S.A.S.: The Movie, but were asked to keep it under wraps until the DVD was released. Now the DVD is out at last, we can reveal that video...hope you like it!
Next couple of gigs are next Saturday (4th Feb) at Hollywood & Vine in Hull with
Hate Mondays
and
Nork Torsion
, and then the following Friday (10th Feb) for our first Sheffield gig at the South Sea with
Three Sheets To The Wind
and
Sky Rocket Jack
. As always, keep an eye on the Gigs page for the latest live news!

8/1/12:
So, another New Year! Hope it's a good one for all of you reprobates, thanks a million for your support! 2011 was a busy year for us, and this year's looking even busier. We did our first show of the year in Bradford on Friday, with our old (and temporarily reformed) mates Wild Trash, and a fantastic night it was too. Today we received the excellent news that for the third year on the trot we're playing the fantastic NICE N SLEAZY FESTIVAL in Morecambe! We always love Sleazy - three days of bands, beer and big breakfasts by the sea, you can't beat that. This year's headliners are THE BUSINESS and ANTI NOWHERE LEAGUE, plus an amazing supporting bill of around 60 bands, so it's gonna be a hell of a weekend!! Check out www.nicensleazy.co.ukfor the latest updates...
Our next show is next Saturday, 14th January, it's the huge Punk 4 The Homeless/Punk 4 Animals weekend at the Green Star in Stoke On Trent. Great causes and a ton of excellent bands for only £6 per day. You'd be daft to miss it!

15/12/11:
The on-again-off-again all-dayer on Jan 21st is unfortunately off again. Apologies for the inconvenience, hopefully we'll be back playing locally again soon!
The TV Smith show was a fantastic experience, the man's a gent and a true punk rock legend. Nice to see so many people out on a Tuesday night too, thanks to everyone who came down!
This Sunday is the day of the STP Records Christmas half-dayer - doors are at 3pm, first band onstage at 4pm, and we're due on at 7.10pm. Gonna be a great day, see ya down there! It's our last show of the year, and our 5th anniversary gig!
By the way, we now have our own page at Strummerville.com - check out www.strummerville.com/the-kingcrows and see what you reckon!

27/11/11:
We've had a bit of a breather in November, but got a big finish to the year coming up! Our Grimsby gig (3rd Dec) has unfortunately been pulled, but we're supporting the SEX PISTOLS EXPERIENCE at Brooklands Bar, Batley on Sunday 4th Dec. Tickets are £7 each from the venue. Then on Tuesday 13th December we're at the Well, Leeds opening for the legendary TV SMITH & THE VALENTINES, playing the best bits of his classic band The Adverts. Also on the bill are CYANIDE PILLS and SKY ROCKET JACK; tickets are £8 in advance or £10 on the door, but to get in for a bargainous £7 email us at kingcrows@tiscali.co.uk and we'll put you on our cheap list
For our last show of the year, and the event where we'll be celebrating our 5th anniversary of gigging, we're going over the sunny Manchester for a 7-band Sunday afternoon special at the Star & Garter courtesy of Stu Taylor and STP Records. Also appearing are TRIOXIN CHERRY, THE CULPRITS, THE VOX DOLOMITES, THOSE BLOODY SNAKES, LEATHER ZOO and headliners DEVILISH PRESLEY. All those great acts for a piddling fiver, and every paying punter gets a free CD from the STP catalogue! How ace is that? See ya down the front!
4/11/11:
Wahey! 3,000 hits! Cheers to everyone for checking out the site and supporting the band. We appreciate it!

12/10/11:
The headline act for the January all-dayer has changed again! Now topping the bill are Sunderland's finest first-wave Oi boys Red Alert. We played with RA a couple of years ago at the Haiti earthquake benefit in Halifax, they're top blokes and a fantastic live act. Also added to the bill are The Gonads. Gonna be a hell of a day...
30/9/11:
Further to our last update, Peter & the Test Tube Babies have dropped out of the January all-dayer, but never mind - their place has been taken by Sham 69! In accordance with this change the event is now known as IF THE KIDS ARE UNITED 2, but the date and the rest of the bill are still the same.
We've also been added to the bill of sleaze-rock semi-legends Drugdealer Cheerleader's final ever Bradford show, this will take place at the Gasworks on Saturday 15th October. Also on the bill are our old buddies The Idol Dead. Entry is free, gonna be a killer night!
12/9/11:
Apologies for the lack of recent updates, we've been busy as hell with gigging and so forth. Been to a load of new places recently, massive cheers to all the lovely people in Scunthorpe, Hoyland and Alverthorpe for making us so welcome! We're already booking shows for next year, and we've just been confirmed for a fantastic all-dayer at the Well in Leeds on 21st January 2012 - the Banned From The Pubs drunk punk spectacular will feature Peter and the Test Tube Babies, Splodgenessabounds, Eastfield, Dirt Box Disco, Homebrew, Lowlife UK, the Swindells, the Mardigras Bombers, and us opening the whole thing up! Tickets are a measly £12 in advance from WeGotTickets - the perfect cure for the post-holiday misery that always sets in at the start of the year!!
Next gig is a headliner at the Courthouse, Barnsley on Friday 23rd September; entry is free, so we'll see ya there!!
12/7/11:
UP BEFORE THE BEAK is now available for download! The latest Kingcrows mini-album is now up on iTunes, Amazon, Play.com, eMusic, Last.fm and most other major channels. Or of course you can get the actual CD direct from us at a gig or the Shop page!
The Gigs page has been updated once again, loads of good shows coming up, check it out!
21/6/11:
Unfortunately our upcoming show at the Red Lion, Stoke-On-Trent on 2nd July has had to be cancelled due to the headline band dropping out. We're currently sorting out a rescheduled date though, so watch this space!
Meanwhile, this Thursday (23rd June) sees us doing a rare hometown show - we're headlining the monthly BadBrains club night at

Carpe Diem

, Great George Street, Leeds. It's been about eight months since the last time we played Leeds, so this one's gonna be a blast! Not only that, but this show is The 100th Kingcrows Gig so it'll be a proper party night! Also on the bill are punk 'n' roll loons The Red Pills and local garage-punk legends The Longshots, with The Godfather opening up proceedings. All this and free entry too! Don't miss it!!

4/6/11:

Well, Nice N Sleazy was an amazing weekend! Cheers to everyone who saw us, hope you all enjoyed the show! The new CD sold a load of copies at the festy, and for those who couldn't make it and can't get to a gig in the near future, it's now available in our

Online Shop

. Also, for the people who have just discovered us, we're doing a bit of a special offer - buy all three of our currently available CDs for ten quid and we'll pay the postage ourselves (saving £2.50)! G'wan, give it a punt!
Incidentally, the tracks from the new CD are streaming at our Jukebox page, so go give 'em a listen!
Next Sunday (June 12th) we'll be doing our best to burn ourselves out when we play two gigs in a single evening. Firstly we'll be opening one of the Fringe events at Wakefield's Long Division festival - we're first on at the Snooty Fox (onstage at 4pm), with the rest of the bill comprising of THE SONS OF EL ROACHO, NUTTY SKUNK, TOTAL CONFUSION, BRAINBOMB, MENTAL BLOCK and SKIPRAT. It'll be the mother of all psychobilly-ska-punk-reggae-n-roll sessions!
Pretty much as soon as we get off the stage we'll be piling back in the Sunshine Bus and pegging it over to Dewsbury for our headline gig at the Old Turk - our first show there since 2007! - with support from riff-monsters extraordinaire PSYCHOBABYLON. Entry to both these events is free, you'd be a fool to miss 'em!!
27/5/11:

It's been a particularly busy few weeks for the Kingcrows, and it's about to get a hell of a lot busier! This weekend sees our second appearance at the excellent Nice N Sleazy festival in Morecambe - we're playing at 8.05pm on Sunday night, two slots below the Boomtown Rats, so come and check us out if you're at the festy! It's gonna be a great weekend, with 60+ great bands over three days. www.nicensleazy.co.uk
The other big news today is that our NEW 7-TRACK MINI-ALBUM will be launched at the festival!!

UP BEFORE THE BEAK was recorded at Loom Studios, Birstall with our regular producer Grant Henderson and features the following tracks:

WHO ARE THE MADMEN?
PARTY
DON'T YOU KNOW
RENEGADES
LUNCHTIME AT LUBY'S
THE KIDS ARE ALL WRONG
FRIDAY NIGHT HEROES

It'll be available from this website early next week, download release date to be confirmed. Cheers!
31/3/11:
Next few gigs coming up:
Thu 7th April: Rio's, Bradford (opening for

The Vibrators

, also with

The Drastics

)
Fri 29th April: Abbey Road, Batley (opening for

UK Subs

, also with

Total Confusion

)
Sun 1st May: The Witchwood, Ashton-Under-Lyne (day 1 of a HUGE two-day Bank Holiday bash with

GBH

,

Drongos For Europe

and loads more)
The new mini-album is coming along nicely, it's currently in the mixing stages and sounding deadly. As is traditional for us now, it contains seven songs and has a groaningly punnish title. We'll keep ya posted...
21/2/11:
We're recording again! Next month the Kingcrows will enter The Loom studios in Birstall with our favourite producer Grant Henderson to make the follow-up to A Murder Most Foul. More details to come in due course...watch this space!
In the meantime, we have much giggage going on, including a two-day micro-tour of the Other Side Of The Pennines! We're playing the Stamford Arms in Stalybridge on Sat 5th March (ably backed by 3CR, Anger Without Reason and Thirtinas), and the next day we're doing a Sunday afternoon special at the Dog & Partridge in Preston, the second in the Northern Punk'N'Roll Alliance series! Same four bands as Rio's, but this time with Mardigras Bombers headlining. First band hits the stage at 2pm, so get yer Sunday roast down you early and bring yer dancing boots!
11/2/11:
Tomorrow (Sat 12th February) sees the opening show in a series of gigs we're doing with three of the finest bunches of reprobates we've come across on the circuit - the Mardigras Bombers, St Tantrums and the Zombie Headhunters! Tomorrow's show is at Rio's in Bradford and is headlined by St Tantrums. We're on first so get there early - and if you can't make it, keep yer eyes on this page for more dates in the Northern Punk'n'Roll Alliance series!
5/12/10:
The Kingcrows are proud, humbled and somewhat surprised to have been included on the great Fungalpunk's 2010 Accolades Of The Year - we've been named as this year's "MOST OVERLOOKED AND UNDER-RATED OUTFIT" on the site. Quote:
"In truth this section is the hardest as there are so many fuckin' good bands out there not being given true reward for their talents and efforts that it really does defy belief. How many tell me that 'such and such are a good band' and yet the band in question fails to pull in a crowd deserved of their status. For me the criteria for this section is based on attitude, desire, ability, entertainment value and, most importantly, my exasperation at them not getting 'out there'. So after much thought, much deliberation and much questioning my choice is The Kingcrows. I love what these dudes do and the show they put on whilst doing it! My self, good lady and equally good daughter have enjoyed their performances quite a few times now and both on and off stage they come across as darn decent dudes. They have a solid diversity of tune and overall deserves this accolade. If this helps them go on to better things, try a little harder and increases their CD sales by 1% then a happy Fungal I'll be."
We're honoured and flattered by this recognition. Nice to know someone appreciates us!
http://www.fungalpunknature.co.uk/FUNGALPUNK/about/AnnualAccolades.html
13/11/10:
We've just uploaded a load of video footage from our recent gig at the Snooty Fox in Wakefield - it's all embedded on the Jukebox page, go check it out!
We've started booking gigs for 2011, if you want us to come and play at your local venue get in touch! Email us at mail@kingcrows.com or kingcrows@tiscali.co.uk, or fill in the contact form on this site! Cheers!
16/8/10:
The new Kingcrows single "Magdelene" (and its b-sides "Insult & Injury" and "In For The Kill") is now available for worldwide download via iTunes, Amazon, Play.com and most other major download sites!
The single received its first review today, courtesy of the excellent www.uberrock.co.uk - check it out at http://uberrock.co.uk/cd-reviews/28-august-cd/1228-the-kingcrows-magdelene-corvus-rex-records.html now!
4/7/10:
THE KINGCROWS are preparing to release a new three-track single, "Magdelene" c/w "Insult & Injury" and "In For The Kill". These tracks are updated re-recordings of songs which originally appeared on their now-deleted debut EP Carrion Regardless in 2008. Kingcrows Online had a word with drummer Ratbag to find out what the story is...

KCOL: So, can you tell us what prompted the band to re-record these three songs?
RATBAG: We recently took the decision to let the Carrion Regardless EP to go out of print when the stocks ran out, 'cos it doesn't really represent us any more. We're not the same band - in line-up, sound or approach - as we were when we started recording it. You know there's only me and Lee J left from the day we started doing that CD? Thing is though, three of the seven songs from that CD are very much a part of the current set, and we wanted to keep them available, so we decided to re-do them the way we are now and stick 'em out as a single.

KCOL: The recording sessions for Carrion Regardless went on a bit longer than expected, didn't they?

RATBAG: Aye, it took over a year in all to get it done. To be honest, there was a lot went wrong during the making of that CD; the day we started recording the basic tracks, our old bassist Bob left the band, so we had to drag our mate Rusty in to record the bass parts for us. Rocco didn't join the band til we were almost finished; he was in time to do backing vocals but not to do the bass. Then we split with Tony (vocals) and Phil came in, but he hadn't been in the band long when he recorded his parts and hadn't entirely got to grips with the songs. The way we worked on it, the recording sessions were spread out over a long period of time and by the end, we'd been working on it for so long we were sick to the teeth of it and just wanted to get the thing done and out, so paradoxically it was both dragged out for ages and rushed at the end. This time we wanted to do it fast and do it right.

KCOL
: Did you use the same studio and producer for the re-recordings as you used last year for A Murder Most Foul?

RATBAG: Yeah - we really enjoyed working with Grant at Ivolv last year and we were dead chuffed with the sound he got for us, so we were always planning to go back there anyway. Then, while we were considering redoing this stuff, he got in touch to say he had a special offer going on. The lure of cheap recording time pretty much clinched it! It's our last time at Ivolv though, because Grant's moving studios. He's got a new place called The Loom, in Birstall, and we should be going there once it's up and running. We'll miss Ivolv, but the Loom looks and sounds pretty amazing.

KCOL: How did the sessions go?

RATBAG: Really well, dead smooth and great fun. Grant's an easy and very creative guy to work with and a hell of a good laugh. Apart from anything else, we've been doing these songs so long that we just rattled through them - all the lead vocal tracks were first-take, which we were a bit impressed with (nice one Phil!).

KCOL: So how do the new versions differ from the originals?

RATBAG: Well, for a start there's a lot less lead guitar going on. When we did the first EP we were very much a two-guitar band but now there's only Lee, and he's never been one for much soloing. The songs are a lot more direct and focussed now, and Rocco's bass playing has a different feel to Rusty's; the fact he plays a Rickenbacker has a big effect on the sound too. Plus, we've had a lot longer to hammer the songs into shape. We're all a lot more comfortable with ourselves as a band now - we know who we are, what we do and how we do it.

KCOL: Why did you choose to do re-recordings this time rather than new material?

RATBAG: We don't feel we've had the full mileage out of A Murder Most Foul yet - we just had a second run pressed up and it's still selling well, so it's not like it's reached the end of its cycle yet. This is just a sort of stopgap until next year, when we'll be doing the next CD. We're already working on loads of new material, so there'll be another seven-track EP turning up in due course. This single draws a line under the early period of the band and clears the decks for the new stuff. Onwards and upwards, y'know?

KCOL: How will the single be available?

RATBAG: Same way as A Murder Most Foul - initially on CD direct from us, either at gigs or through the website for the bargain price of two quid, and later on for download through the usual channels; Amazon, iTunes, Napster,
HMV.com
,
Play.com
, all those places.

KCOL
: Anything else we should watch out for?

RATBAG: Yeah, we've recorded an extra song as a little bonus, that'll be just on the CD (not on the download sites) but not listed. So don't switch it off too soon!
The new single "Magdelene" will be available from
www.kingcrows.com
and at Kingcrows gigs from 5th July, the date for worldwide download release will be announced as soon as possible!
22/5/10:
Gigs page has been updated again, some goodies coming up including a couple of gigs with the mighty ANTI NOWHERE LEAGUE! We have cheap tickets available for the Selby show with the League (Friday 4th June), they're £14 on the door, £10 advance from the venue or a piddling £8 from us!
It's nearly Nice 'N' Sleazy time - it starts this Friday, and we're looking forward to a weekend by the seaside with a load of mates and a few drinkies. We'll be hitting the stage at 4.15pm on the Sunday, so come and see us!
Finally, we've just spent a couple of days in the studio with our uberproducer Grant Henderson to record a new single. Watch this space for details...!
10/1/10:
Happy New Year you 'orrible lot! Gig page has been updated with new stuff!
The Kingcrows are immensely chuffed to announce we'll be playing the NICE 'N' SLEAZY festival in Morecambe at the end of May. The bill so far is looking exceptional, with EDDIE & THE HOT RODS, GOLDBLADE, STRAIGHTEN OUT (Stranglers tribute), BLITZKREIG, KEYSIDE STRIKE, THE X-RIPPERS, KINGS OF THE DELMAR, NO THRILLS, THE RED EYES, PISTOLA KICKS, TRUE BEAT, LAST GANG IN TOWN and loads more. The festival runs from Friday 28th to Sunday 30th May. Full bill and running order is still to be confirmed.
Tickets are £30 in advance for the full weekend, including camping - bargain or what?!

See www.nicensleazy.co.uk for the latest news, confirmed bands and tickets. See ya there!
12/12/09:
It's been a busy few weeks for the Kingcrows. We supported the legendary UK SUBS again at Rio's, Leeds in late November, followed by a headline gig in Bradford backed by THE DRASTICS and then a show with veteran London melodic punk heroes GUITAR GANGSTERS and Lancashire punk 'n' roll hotshots KINGS OF THE DELMAR at the Well in Leeds. We had a lot of fun and made a lot of new friends at these shows!

It's coming to the end of the year, and our final show of 2009 will be on Sunday 20th December at the New Roscoe, Leeds. We're supporting Yorkshire's premier New York Dolls tribute THE DOLLS, so come down - it'll be a blast!
So, to everyone who's seen our show, looked at the website, heard our tunes, gigged with us, given us somewhere to play, bought us beers...MESSY CROWSMAS, and we'll see ya in 2010 for more chaos!
3/11/09:
Today is the day that The Kingcrows go global! Our latest EP A Murder Most Foul can now be bought at any of the major MP3 download sites, worldwide! That includes iTunes, Napster, Amazon.com, Play.com, HMV.com, 7digital.com, eMusic and loads more! So, if you don't have this fine recording yet, here's yer ideal chance to cop for a copy. And remember, if (like us) you're old-fashioned and still like to have a real CD in yer hand, you can buy the hard copy direct from this very site - check the Shop page!
9/9/09:
We regret to announce that our scheduled appearance at the Red Roar festival in Gravesend this Saturday has had to be cancelled - unfortunately our bassmonger Rocco has come down with a case of the dreaded Swine Flu and has been confined to barracks. We're gutted about this, we were seriously looking forward to this show - first festival appearance, first time down south - but hopefully we'll have more southern dates arranged before too long.

In the meantime, our deepest apologies to the festival organisers and all the people who were looking forward to seeing us. Hopefully we'll see ya soon! We should, all being well, be back up to gigging fettle in time for our next gig, at the Primrose in Leeds on Sept 25th (with PseudoNympho, Boneyard Babies and By Default).

8/9/09:
Another great review of A Murder Most Foul has appeared on t'interweb, this time on top glam-punk-goth-and-everything-in-between website GLITZINE. Also, our ol' mate Fungalpunk has given our live show yet another glowing writeup on his excellent site, after our triumphant appearance at the inaugural R.A.T.T. Club Bank Holiday All-Dayer. Check them out at our new Reviews pages!
4/9/09:
The Kingcrows will be supporting punk rock legends the UK SUBS at Rio's, Leeds on Thursday 19th November. Tickets for the show will shortly be available from the band, watch this space!
19/8/09:
It would appear that our pronouncement that our gigs down South had fallen through was at least partly premature! On September 12th we will be appearing at the RED ROAR FESTIVAL at the famous Red Lion Music Venue in Gravesend, Kent. We should be onstage at about 4pm, so if you're in the area get there early!
The festival runs for three days, with over a hundred acts on four stages. Weekend tickets are £9 in advance or a tenner on the gate, and day tickets are a fiver a throw. Bargain! If you have a Facebook account you can view the details of the event at http://www.facebook.com/event.php?eid=137009956966&ref=ts so give it a look!


15/8/09:
Unfortunately, due to circumstances well beyond our control, our trip south we were planning for 11-12th September have had to be cancelled. Typically for a Kingcrows plan, both of the gigs we had lined up have fallen through. The Curse of the Crow strikes again. Our deepest apologies to anyone who was intending to come and see us - we're going to try and get down early next year, watch this space for details.

On a better note, we had our first ever radio spot this week, on the PUNK & DISORDERLY show on Halifax's Phoenix FM, where we spent an hour playing a selection of noisy tunes (including four tracks from our lovely new A Murder Most Foul EP) and talking bollocks. We had a brilliant time, and we'd just like to say thanks a million to Steve and Luke for having us on the show and making the evening so enjoyable. Cheers guys, see ya again soon! Also, I personally would like to apologise to the rest of the band for not letting 'em get a word in edgeways. I tend to babble a bit when I'm nervous...
The show will be available as a podcast soon, we'll post a link when it's ready.

Our next gig will be on August 29th, at the Room At The Top club's summer all-day spectacular at the Polish Club, Bradford. The bill for this is looking immense and goes like this:

THE PAIN (11pm)
THRESHOLD SHIFT (10pm)
THE KINGCROWS (9pm)
NO EAGER MEN (8pm)
MARDI GRAS BOMBERS (7pm)
SWINE (6pm)
ADAM MORGAN (5pm)
CAYN WHITE (4.30pm)
THE DRASTICS (4pm)

The whole thing kicks off at 4pm and costs a negligible £4 on the door. FOUR MEASLY QUID. For all that lot. Don't miss it, it's gonna be fantastic!!

19/7/09:
The new EP A Murder Most Foul is now available! We have a load of gigs coming up to promote the release, check out the GIGS page for details!
28/6/09:
The release date of the new Kingcrows CD A Murder Most Foul has been set for 18th July 2009. The seven-track mini-album features the following songs: "Hanging Around", "Stiletto Groove", "What She Does To You", "Sex, Oui", "Revolution Street", "One Of The Boys" and an acoustic reworking of "Writing On The Wall".
To celebrate the event, we're having a CD RELEASE PARTY! On the night of release - Saturday 18th July - we're playing at The Cardigan Arms, 364 Kirkstall Road, Leeds LS4 2HQ, and the new CD (and the new t-shirts!) will be available for the first time. Support comes from ACTION DIRECTE, TESTTONE3 and ST TANTRUMS. It's gonna be a wild night!!